Summer Show - Saturday 13th August 2016
2pm - 5pm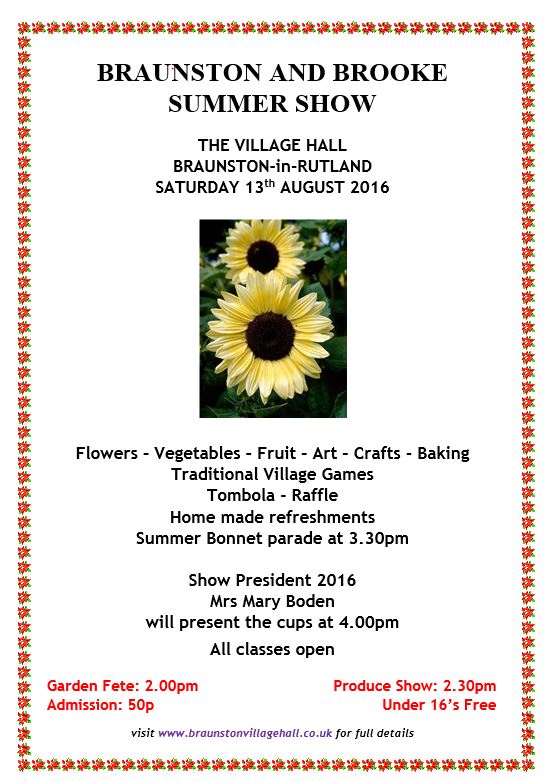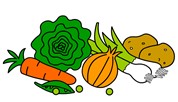 Our annual Summer Show is an opportunity for everyone in the village to show off their skills in the garden, the kitchen or the art studio. Bring your marrows, your roses, your scrumptious cakes and your artwork, and see how many prizes you can win.
Click here to see a copy of the show schedule which has full details of all the classes that you can enter - classes are open to Braunston residents and non-residents alike. Bring your entries along to the hall from 7pm-8pm on Friday evening or from 9am-11am on Saturday morning; the hall is then closed until 2pm while the judges make their decisions.
There will be fete in the garden with traditional games for all the family, plus raffle, tombola and a chance to buy plants at the Gardening Club stall. Refreshments this year will be cream teas featuring a selection of home-made scones from Braunston's best bakers. And there will also be the Best Sunflower competition, and a Summer Bonnet parade - see below for details.
Best Sunflower Competition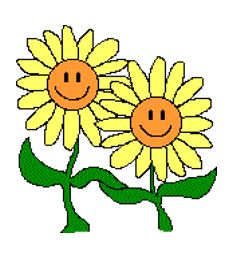 Join in the fun by taking part in this year's Sunflower Competition. We've distributed free seeds to everyone in the village - now it's up to you to get those seeds planted and see if you can grow Braunston's best sunflower. The seeds are a dwarf variety so they won't grow too tall.
Bring your sunflower to the Village Hall by 2.00pm on show day and see if you've won at our prize giving at 4.00pm. It's OK to bring along your plant even if it has not flowered or your flowers have gone past their best, our judges will be looking for potential and past glory !
Summer Bonnet Competition
Get creative and design your own bonnet for our parade. No rules, open to everyone ( yes chaps, that includes you ! ) use any materials and decorations that take your fancy, make it traditional or make it wacky, it's up to you and how the mood takes you. Then at 3.30pm, join in the parade and demonstrate your genius.