Latest News
For a limited period, join the Monday Zumba group and get your first session free. It's a good fun workout, guaranteed to get those feet moving - not necessarily in the right direction but it doesn't matter !
Give Mark a call or text on 07747 637070, or just turn up at 7pm.
JT 06/06/2017
---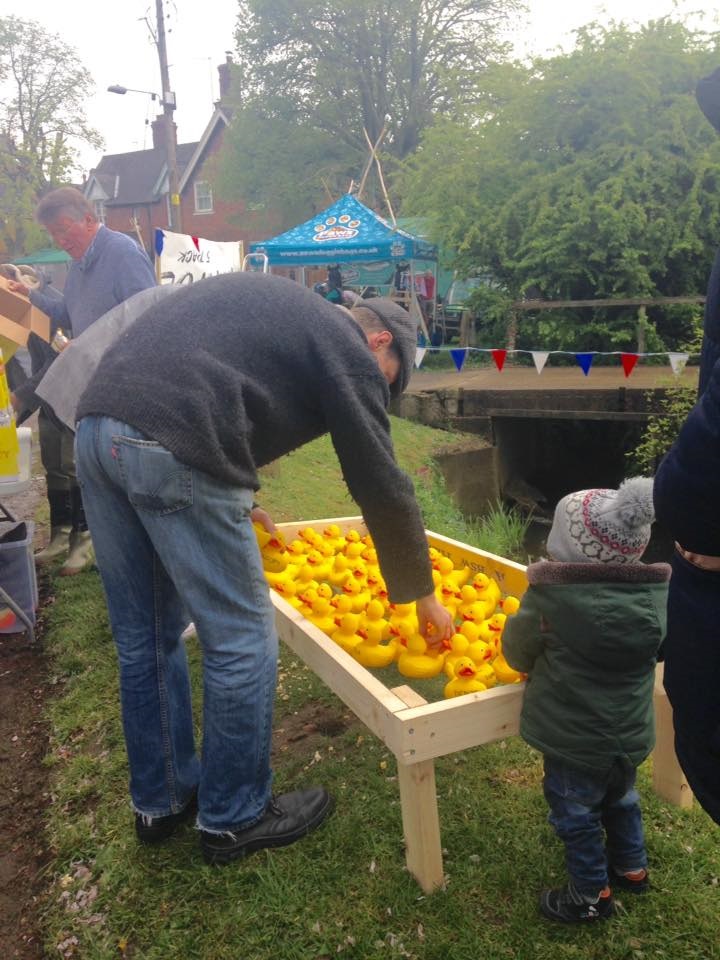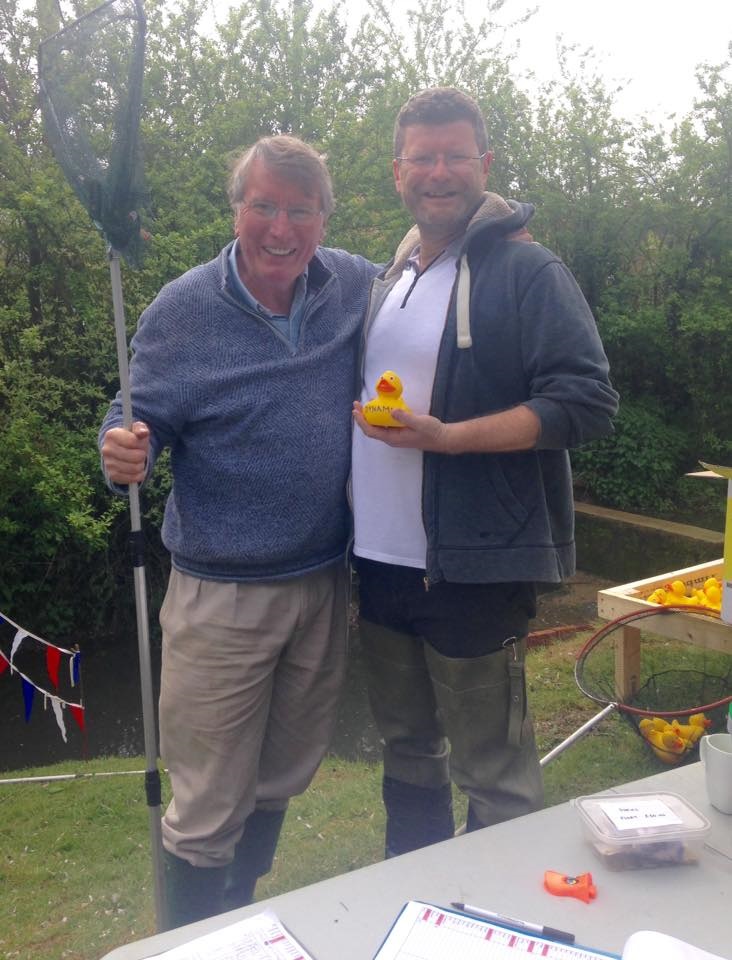 The 2017 May Fayre went swimmingly (especially for the ducks!). After a drizzly early morning, the weather looked kindly on the village, and brought out the crowds. We reckon that there were around 1600 visitors to Fayre in all, which made for a fun and buzzing atmosphere.

All the traditional and well-loved Braunston Fayre events were there, including the Dog Show, live music, market, craft stalls and games. We had vintage cars on the village green, and a new addition this year was laser skeet shooting, much more difficult than it looks ! This year's Duck Racing saw the introduction of 'The Quack National' hotly competed by all the sponsored ducks.

The village hall did a roaring trade serving quality homemade cakes, rolls and teas, and provided much welcomed sustenance for villagers and visitors alike.

Special note must go to the Maypole dancing, an event which keeps old country traditions alive. This year, Fiona Willets took the reins and coached the young dancers through the routines, supported by Sylvia Matthews who has led this for many years. It was lovely to see so many of the village children getting involved in this time-honoured spring tradition.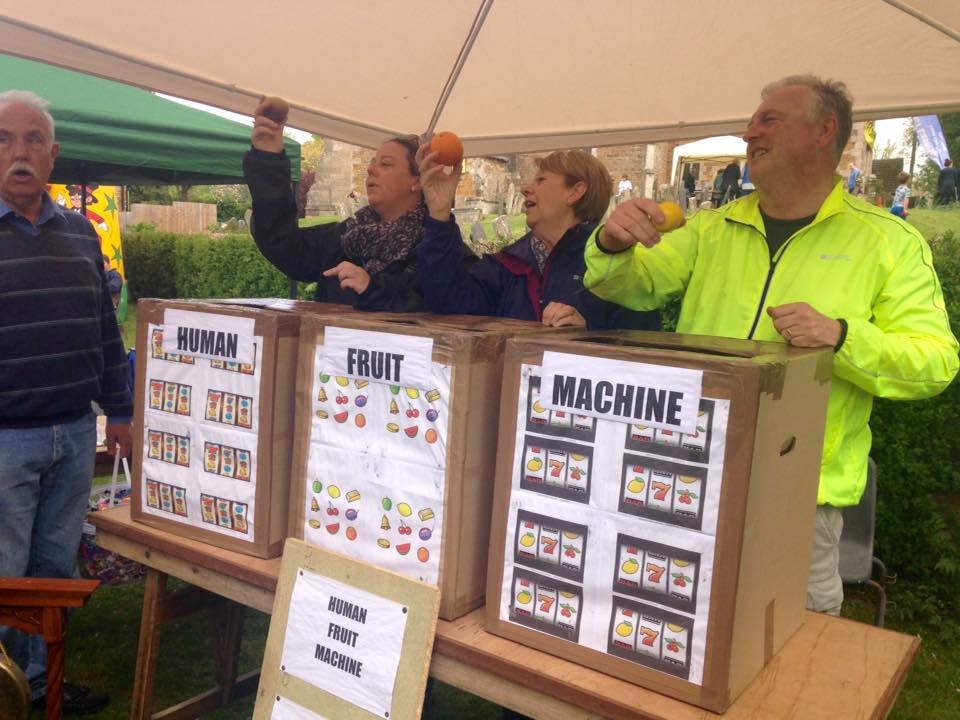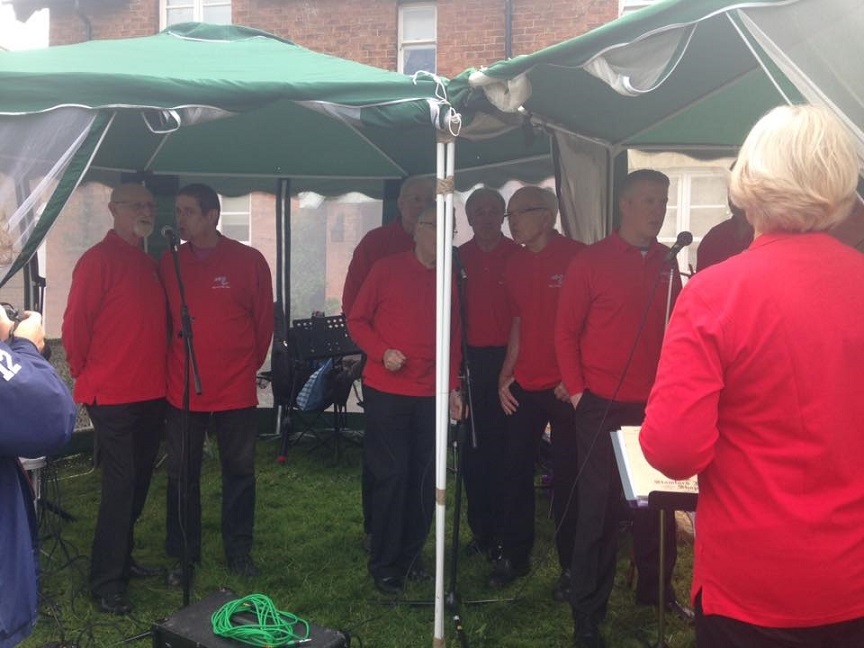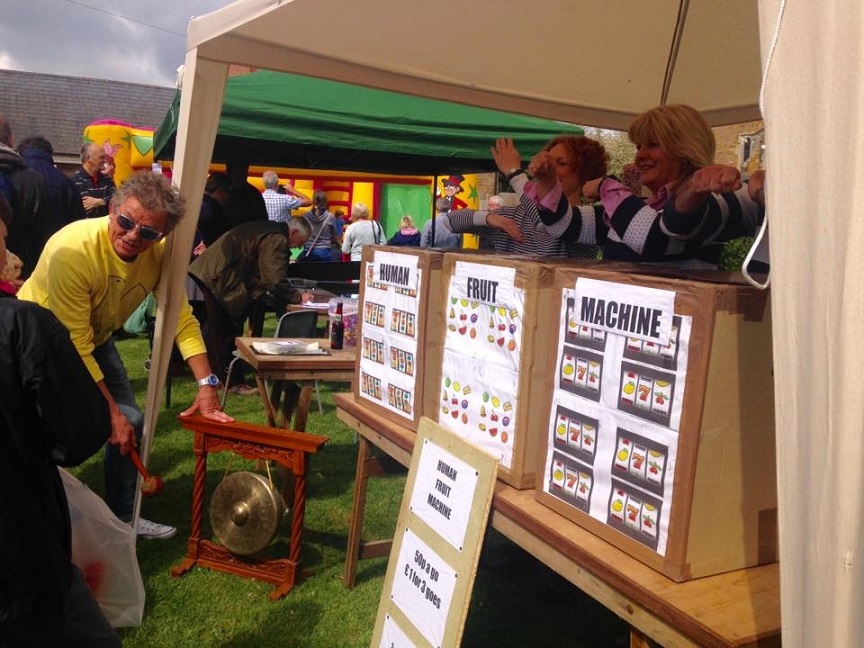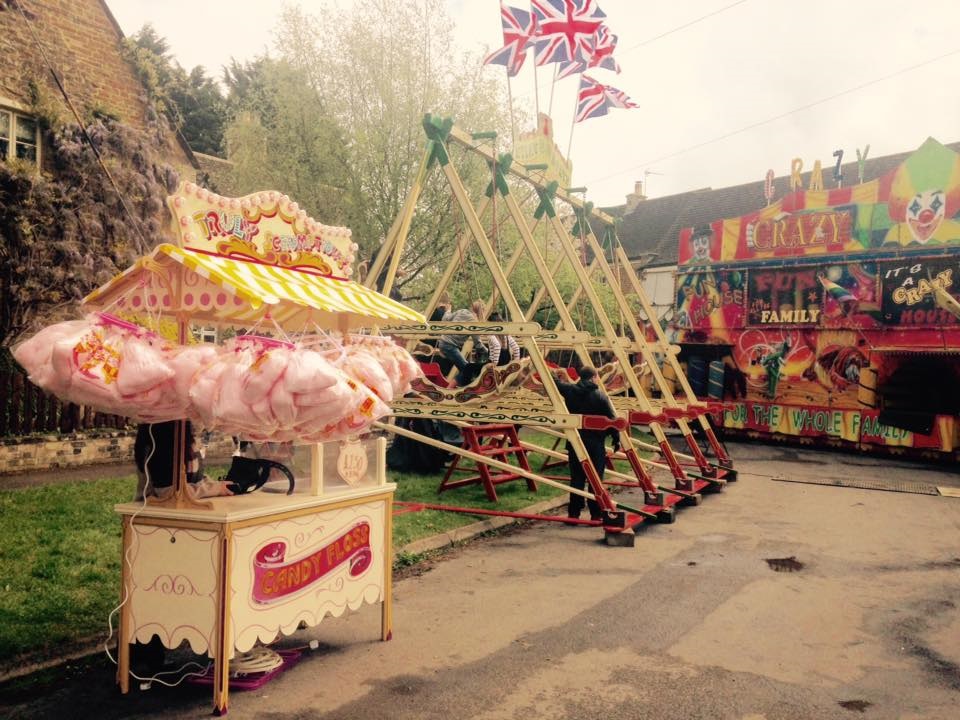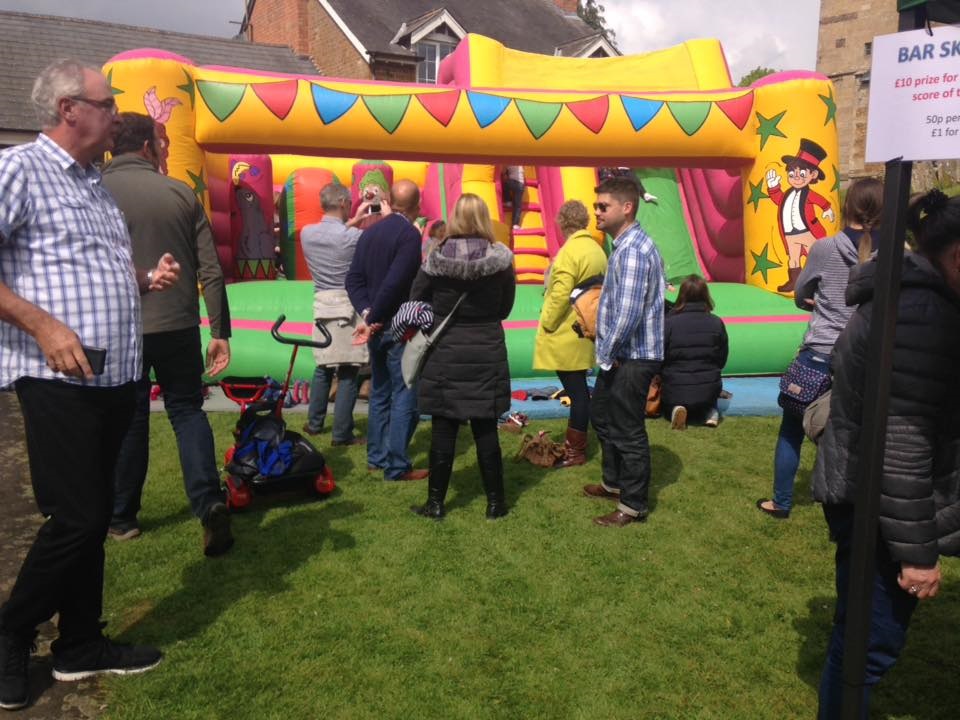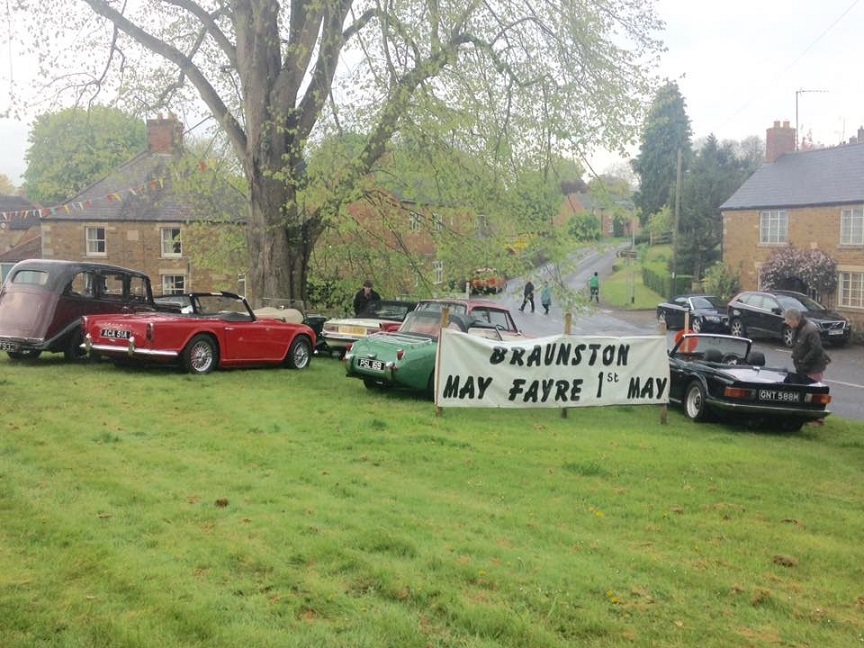 Unaudited accounts indicate that the Fayre raised just under £6,600 which will be shared between the Church, the Village Hall and Dove Cottage Hospice on a 40/40/20 basis. The charity 'Pre-event' band night at the Blue Ball in April raised almost a further £1,300 to add to this total.
The event wouldn't be a success without the support and participation of so many villagers, so a big thank you to everyone who took part in the fun or helped to run an event, and a special thank you and well done to Mike & Tamsin Fagan in their first year as Fayre organisers.
---
Garden improvements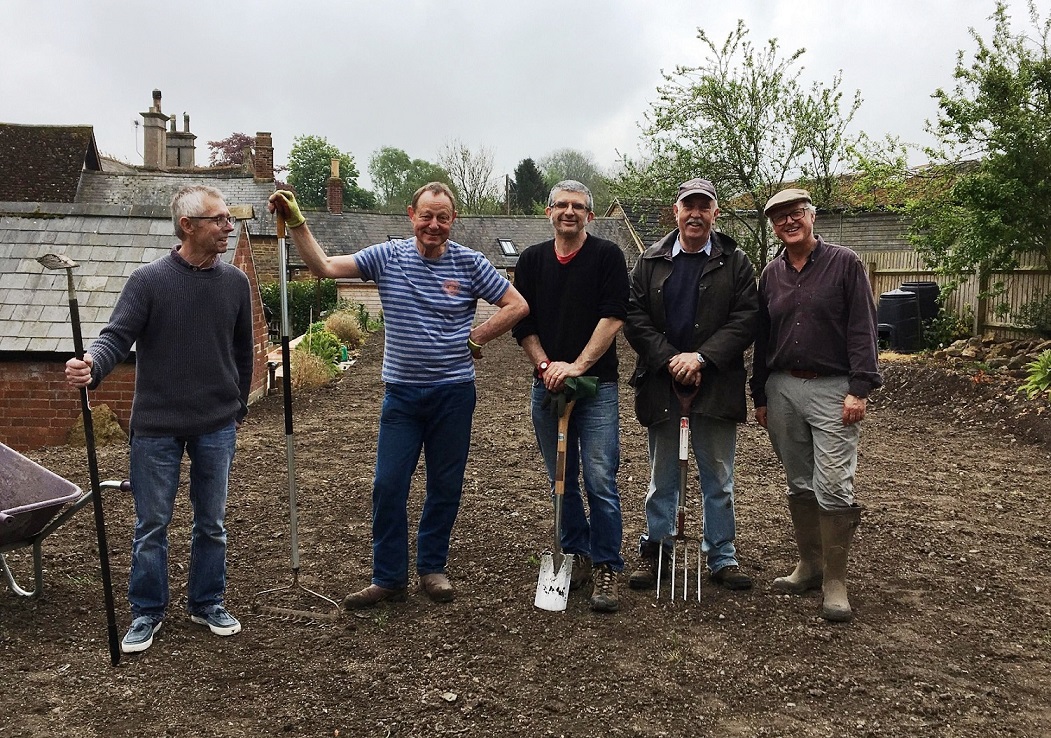 An intrepid team of lawn experts gave up their time on a rather damp Friday morning to rotovate, level and seed the garden area at the back of the village hall. This follows on from much needed improvements done last year to rebuild the retaining wall, replace the old storage container and do some general building work on the toilet extension.
Thanks to Rob Anderson for organising the squad, and to all who helped out.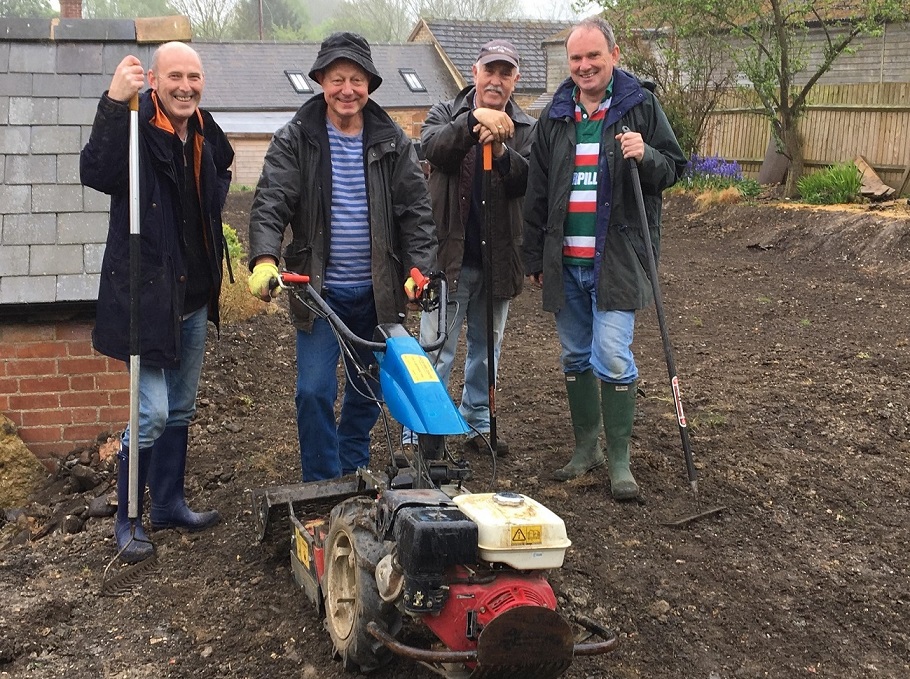 JT 14/05/2017
---
New village residents
After many years of loyal service, the decision has been taken to retire the May Fayre ducks and let them waddle off to the Braunston rest home for mature quackers.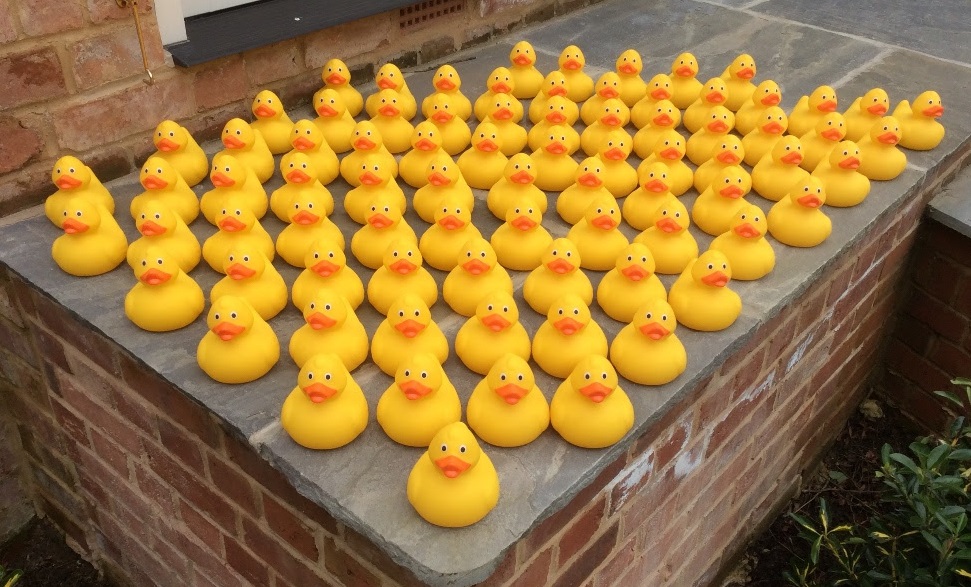 But don't fear, because a new herd have moved in and are currently in training for the annual duck racing bonanza. We don't know anything about their form yet, and it might take them a while to learn the course, but we're sure that by the time of the Duck Race on May 1st they will have learned the ropes. Place your bets soon !
JT 10/04/2017
---
Brains under pressure
We had another successful quiz night in the hall last Friday night; with excellent questions and compering from Tracy & Nick, a well-stocked bar run by our occasional publicans Paul & Cheryl, and a superb supper co-ordinated by Janet & Pat with contributions from Braunston's excellent bakers and chili makers, it was another sell-out evening. Proceeds from tickets and bar will be split between the village hall and the church, and money raised from the raffle will go to the local Air Ambulance.
Many thanks to everyone who helped out, including the throng of people helping with the clearing away. The organisers are all resting now, but will hopefully be revived later in the year for another bash !
JT 26/03/2017
---
Hedge update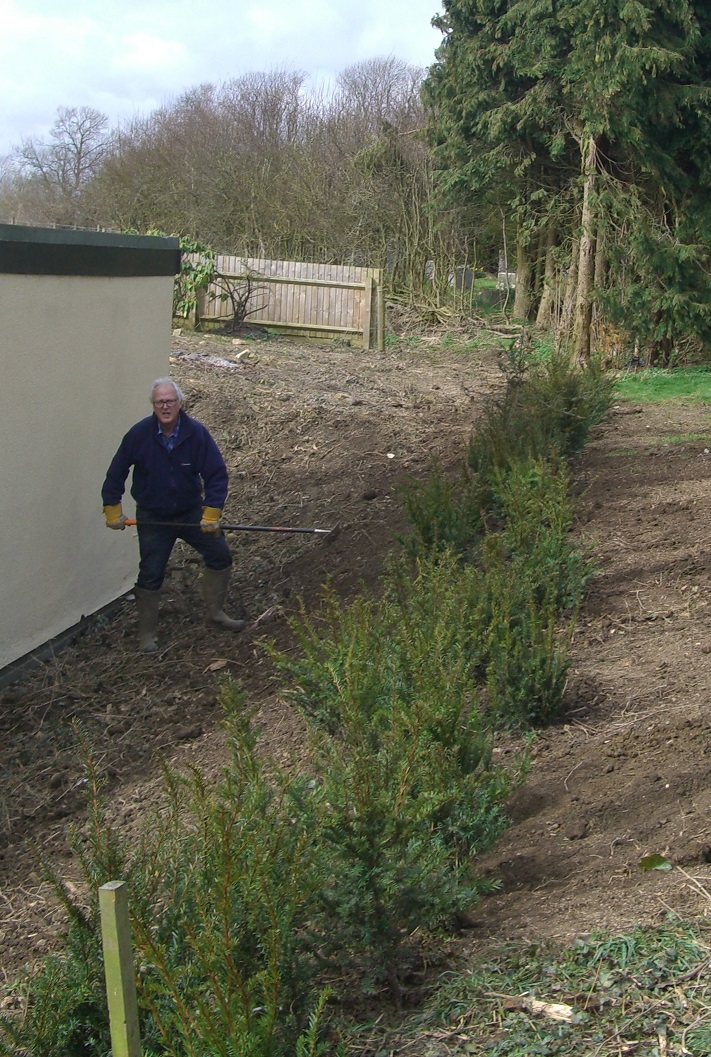 A group of intrepid villagers were to be seen hard at work last Saturday planting the new yew hedge between the hall and the church. With the delivery of bare-rooted plants at the end of the week before, it was many hands making light work to get them planted in the ground as soon as possible. We now have a very neat hedge which hopefully with some regular watering will flourish. The ground either side of the hedge has been seeded with grass, so by summer we should have a much improved area in this part of the churchyard.
Thanks to Rob for ordering the trees and organising the work-party, and to all who took part.
JT 21/03/2017
---
New ovens in the kitchen
Two new ovens have just been installed in the village hall kitchen. The previous ones had done sterling service since the kitchen upgrade many years ago, but sadly the door hinges had loosened beyond repair meaning that the oven doors no longer shut securely. We've replaced them with two Neff ovens with 'Slide and Hide' doors which hopefully will minimise the likelihood of excess weight being placed on them. Together with the new induction hobs installed last year our cooking facilities are looking pretty swish !
JT 15/02/2017
---
New Year - new classes
We have two new fitness groups booked in the hall this year, so there's no excuse for not getting fit for 2017.
On Thursday evenings Jim Ward will be running a Tai Chi class from 7pm to 8.30pm. It's a great form of low-impact exercise and Jim is an established local class leader; for more information contact him on 07811 139419 or email jimward51@gmail.com.
On Friday mornings from 9am to 10pm we have a Pilates class, which is another low-impact exercise class, concentrating on core strength and flexibility. Contact Alison Sentance on 07496 814825 for more details, and to find out whether the class is right for you.
JT 03/01/2017
---
Where's that hedge gone?
You may have noticed that the leylandii hedge between the hall and the church is gradually dispappearing. It's not the work of rogue hedge thieves but a joint project between the village hall and the church PCC to replace the overgrown trees with a more appropriate yew hedge, which will also be easier to maintain. So far all the work has been done by a few hardy volunteers. Sincere thanks go to everyone who has helped in any way, and particularly Mike Hammond, without whose mechanised help the work could not have been done. Once the leylandii hedge is fully removed the ground will be prepared for the planting of yew later in 2017.
JT 20/12/2016
---
New Parish Council website
Only slightly village hall related, but the Parish Council have just launched their new website. It has all the latest information about Parish Council activities, plus general information about the village and what's happening, and links to external bodies such as RCC.
Take a look, it's quite good !
---
Village calendar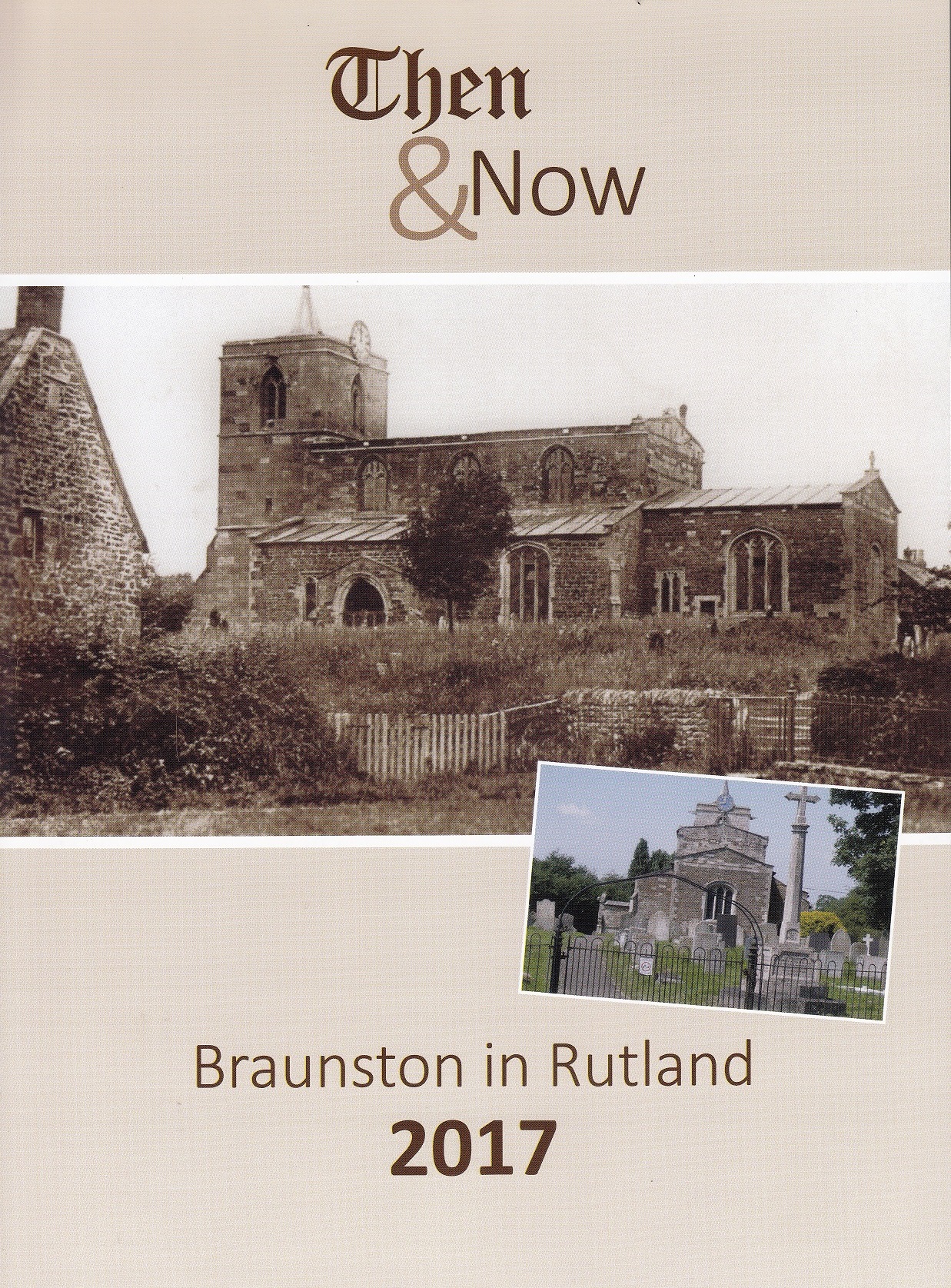 Have you bought your copy of the 2017 Braunston 'Then and Now' calendar yet?
It's a fascinating collection of historic photos of Braunston, side-by-side with how things look now, and makes a great Christmas present for all residents, past and present. On sale at just £7 all proceeds are going to All Saints' Church, the Village Hall, and to the Air Ambulance service.
Contact us to get your copy before they all go.
---
Another great quiz night
We had a sellout for the village hall quiz on Fri 18th Nov with 76 contestants in 13 teams crowded into the hall, all with their competitive spirit flowing and vying to be crowned champions. Quizmaster Nick did a superb job controlling the crowd, and Tracy's questions were well pitched to the calibre of the audience - at least, crisp flavour identification and naming cartoon dogs seemed about the right level for our team !
With a break midway for a supper of baked potato and chili, and a variety of sweet treats to follow ( thanks to all the chefs ), and plenty of lubrication available from the bar, it was a most enjoyable evening. Winning prize went to the Braunston Bugs ( not that they actually needed any more alcohol ), closely followed by No Snout who hopefully managed to divide the box of choccies evenly between them; at the bottom were no-hopers Norfolk and Chance who went home with a delicious Santa chocolate lolly each. No expense spared there. There were also some lucky raffle prize winners, and we noted that the first person to win took the bottle of whisky rather than the 'Senior Moments' trivia game, probably not a difficult decision.
We raised just under £1000 from the night which will be split between the village hall and the church; it's a great sum, but more important is that it was a fantastic social evening for the village.
Thanks to everyone who helped out, both before the event and on the night, doing a washing up stint or putting the chairs away afterwards. And we'll no doubt be having another quiz some time in the New Year - watch out for publicity and get your tickets early to avoid disappointment.
JT 20/11/2016
---
Autumn's here . . . . time to try something new ?
All our regular groups are now starting up again after the summer break, plus this autumn we have a new quilting group on Mondays and Wednesdays. Check out our regular activities page for full details of what's on and when.
Come along, have fun, learn something new, make new friends, get fit - so many reasons !
---
Summer Show
Yet again the skills of our local gardeners, bakers and crafters shone in the village hall on Sat 13th August.
Despite the rather shaky start to the growing seasson there were excellent fruit and vegetables on display, and the flowers were superb. The arts and crafts sections - paintings, needlework, photography, knitwear, pottery - show that there is a lot of talent lurking behind a lot of doors around the village. The children's entries demonstrated plenty of imagination and skill, and any hunger pangs triggered by the cakes and preserves up for judging were well satisfied by the cream teas available.
This year saw a couple of new sections. The sunflower competition produced a variety of exhibits, some had definitely been on a better diet than others, but they all looked cheerful as only sunflowers can.
There were a limited number of entrants to the summer bonnet competition, but as we all know, it's quality not quantity that counts and full marks to the winners for imagination and creativity, not to mention great catwalk skills !
The weather was kind to us again and people enjoyed games of jenga and dominoes in the garden, kids were seen skipping, hula-hooping and swashbuckling with pirate swords - not necessarily at the same time - while the gardening club stall did good business selling all sorts of produce. The raffle and tombola brought out everyone's inner gambler, with varying degress of success - what's wrong with winning a packet of cornflakes I ask.
These village events take a lot of organising, so thanks to all on the committee for setting it up, and to all the helpers who gave up time on the day - too many to mention, but you know who you are. And thanks also to Matt at
The Old Plough for supplying the flower-inspired lunches for the judges - they always give out better marks when well fed !
---
How old is Braunston?
We had a great turnout on Sat 30th July for a talk on the archaeological history of Braunston. About a hundred people came to hear Claire Brown and Peter Liddle from Leicester University tell us about the latest findings from their field walking around the village, and how there are still large gaps in our understanding of how the area was settled in pre-mediaeval times. Hopefully there will now be some more research done by villagers volunteering to dig test pits in their gardens, and field-walk the remaining fields around the area.
There was an fascinating display of artefacts that have already been found, from worked flints and arrow heads, through Roman coins and Anglo-Saxon pottery to mediaeval clay pipes.
And as a final treat we sampled a selection of Roman nibbles - probably best described as interesting

The cheesecakes, stuffed dates and spelt bread were really quite good, but the consensus did seem to be that the broad bean dip was best left in the mists of antiquity !
Thanks to Claire for organising everything.
---
Small hall improvements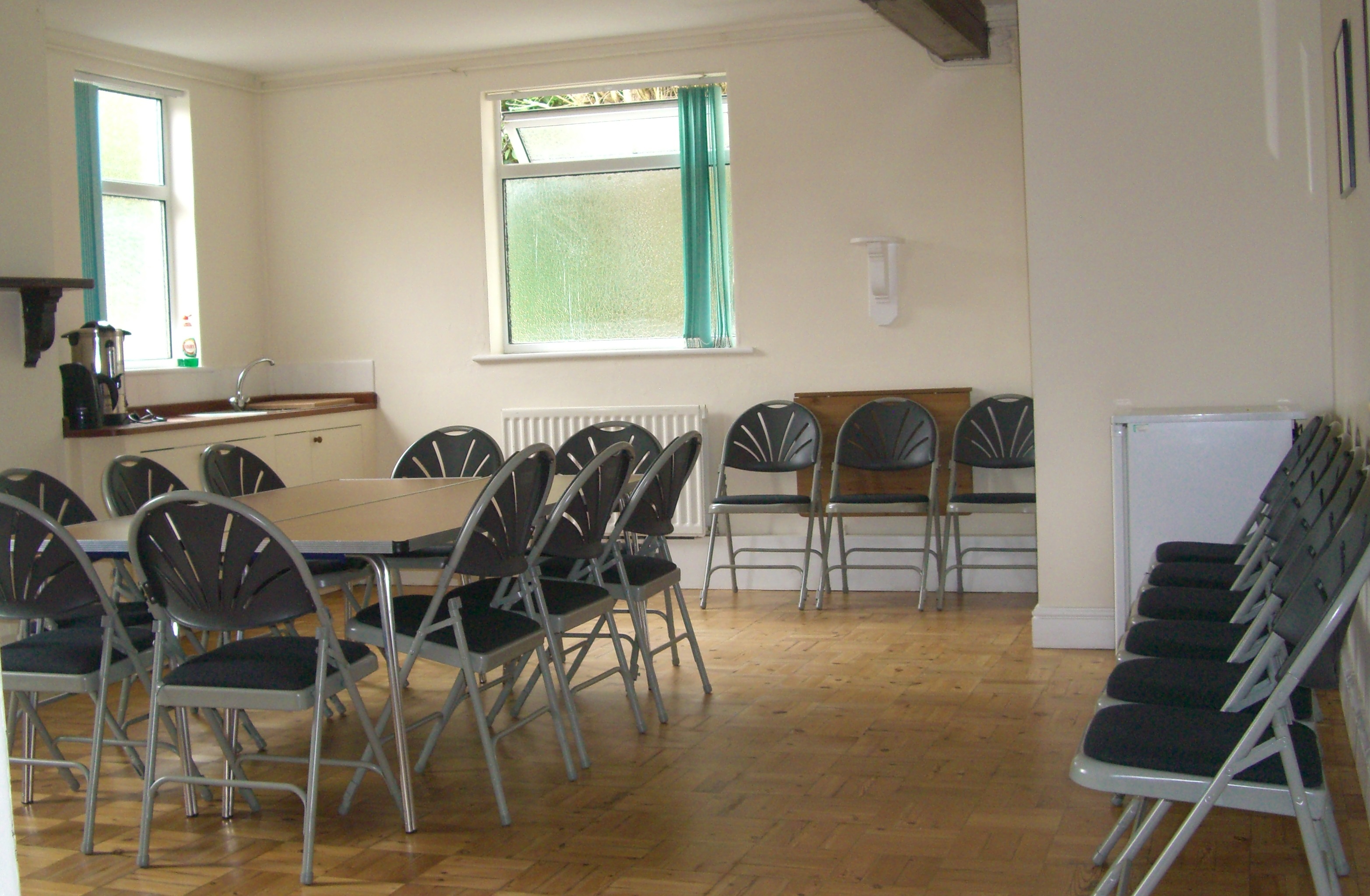 We've had the parquet floor in the small hall refinished - blocks have been replaced where necessary, stuck down, sanded and revarnished and it looks very good, makes the room feel much lighter than it was. The work was carried out by Chris Young Floors, and a they did a good tidy job.
---
Fast broadband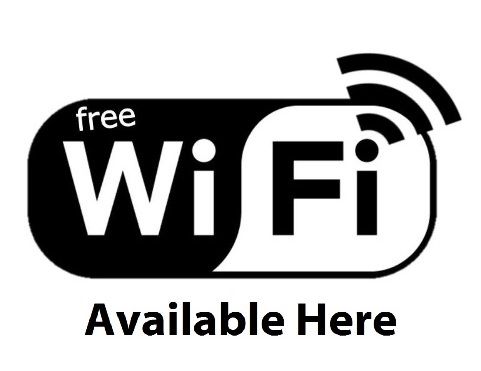 We've finally dragged ourselves into the 21st century and been connected to fast broadband.

With BT dragging their heels in connecting Braunston to fast fibre, we opted to install a wireless system from HERBS ( Harborough East Rural Broadband Syndicate ) which is a local group who aim to bring high-speed internet connections to outlying rural areas that are not served by BT fast infrastructure. We now have download and upload speeds of about 20mbps throughout the hall, and access to our network is free to hall users.
All the latest
---
The Flower & Produce Show
Sat 12th August
---
---
Our regular activities