Latest News
New Year's Resolutions? Try something new in your village hall
There is something happening in the hall almost every day - why not try something new this year?
On Monday evenings we have Oakham Sings!, a ladies' singing group where the emphasis is on upbeat music and having fun.
Tuesday and Wednesday you'll find the Braunston Table Tennis Club knocking seven bells out of a ping pong ball, new members always welcome. Also on Wednesday the quilting group meets in the small hall, so whether you're an experienced quilter or just starting out there's a place for you with plenty of good chat thrown in as well.
The Gardening Club meet once a month on a Thursday evening, and again monthly on a Thursday, Leslie Gadd from Lovely Loaves runs a baking class - all ingredients supplied, just bring along a container to take home your goodies.
On Friday mornings there are two Pilates classes, just the thing to tone and strengthen ( maybe counteracting the effects of the Christmas season ! ), and on Friday evenings we have the fortnightly indoor bowls club, another group where the spirit of competition doesn't get in the way of a having a sociable evening out - or at least, not too often !!
If you're interested in joining in the fun and learning something new have a look at the Regular Activities page to find out contact details.
Go on - give it a go

JT 14/01/2019
---
Posh or what ?
After nearly one hundred years of sterling service, the floor in the main hall had come to the end of its life - with many of the supporting battens rotten and the boards on top too worn to be refurbished, it was decided to remove everything and start again.
The main hall was closed for three weeks during August while the works were carried out and we're now open for business again with a beautiful oak planked floor which is flat, splinter free and no longer bounces up and down in various spots. There's still a bit of work ongoing to repair the skirting boards and make good the paintwork on the walls but we reckon we've got the poshest hall floor in Rutland. ( Of course it does mean that the indoor bowls team are going to have to rethink their entire technique as the balls will no longer roll in random patterns along the uneven boards !! )
Our thanks to Brian, Sean and Kalvis for their hard work in providing us with a floor that will hopefully last as long as the previous one.
Here are a few thumbnails of the day by day progress - click on them for a bigger view.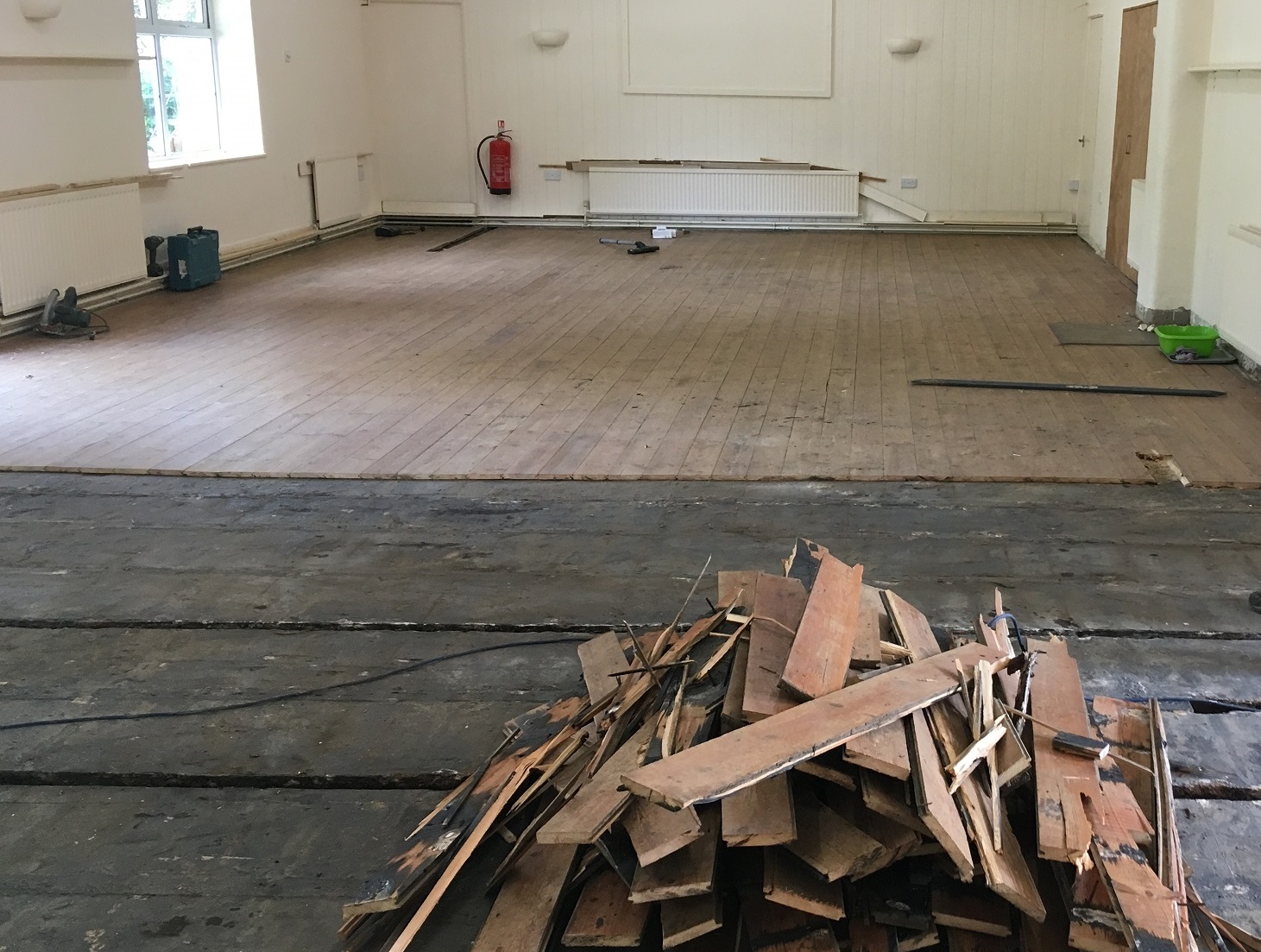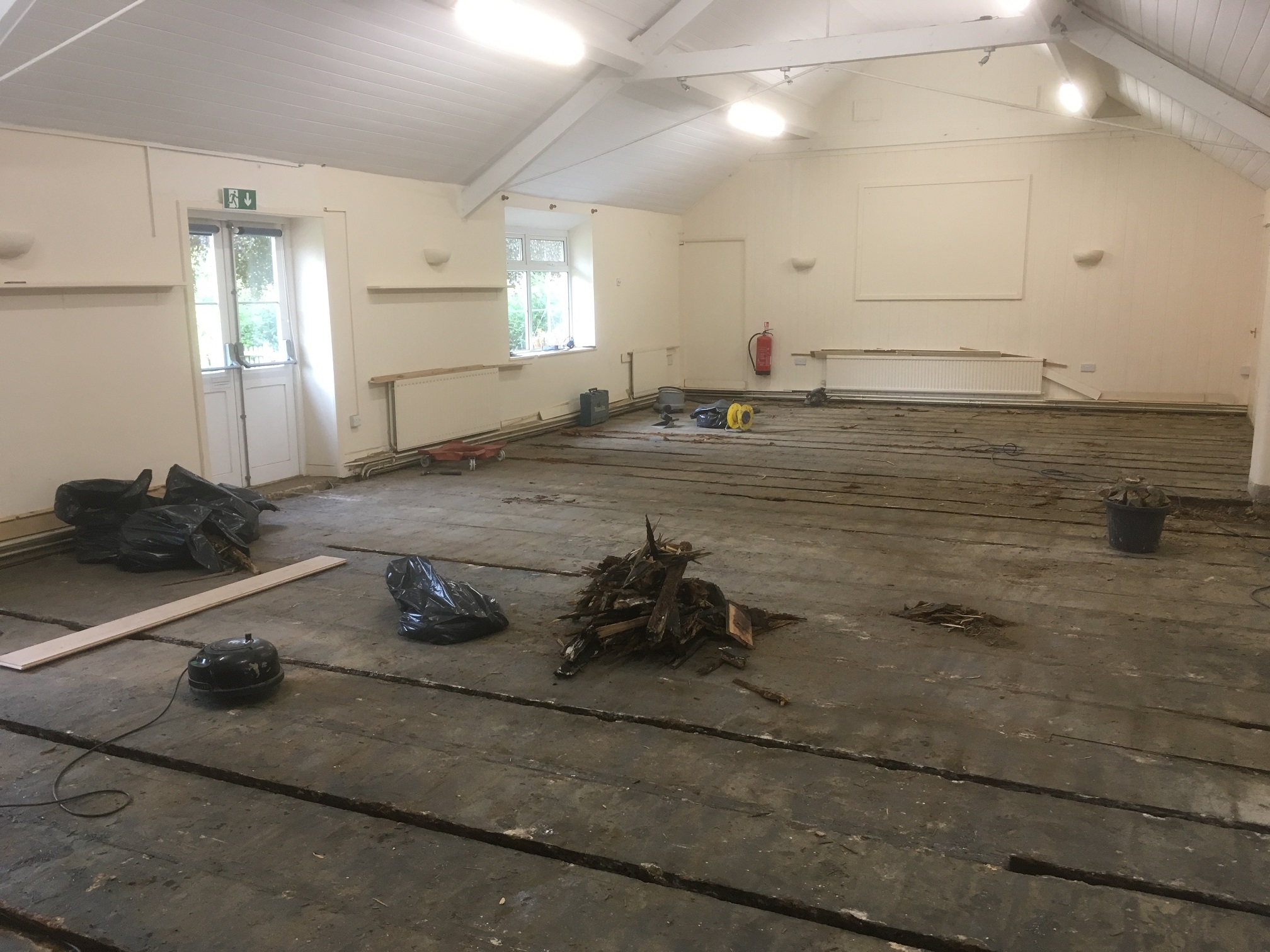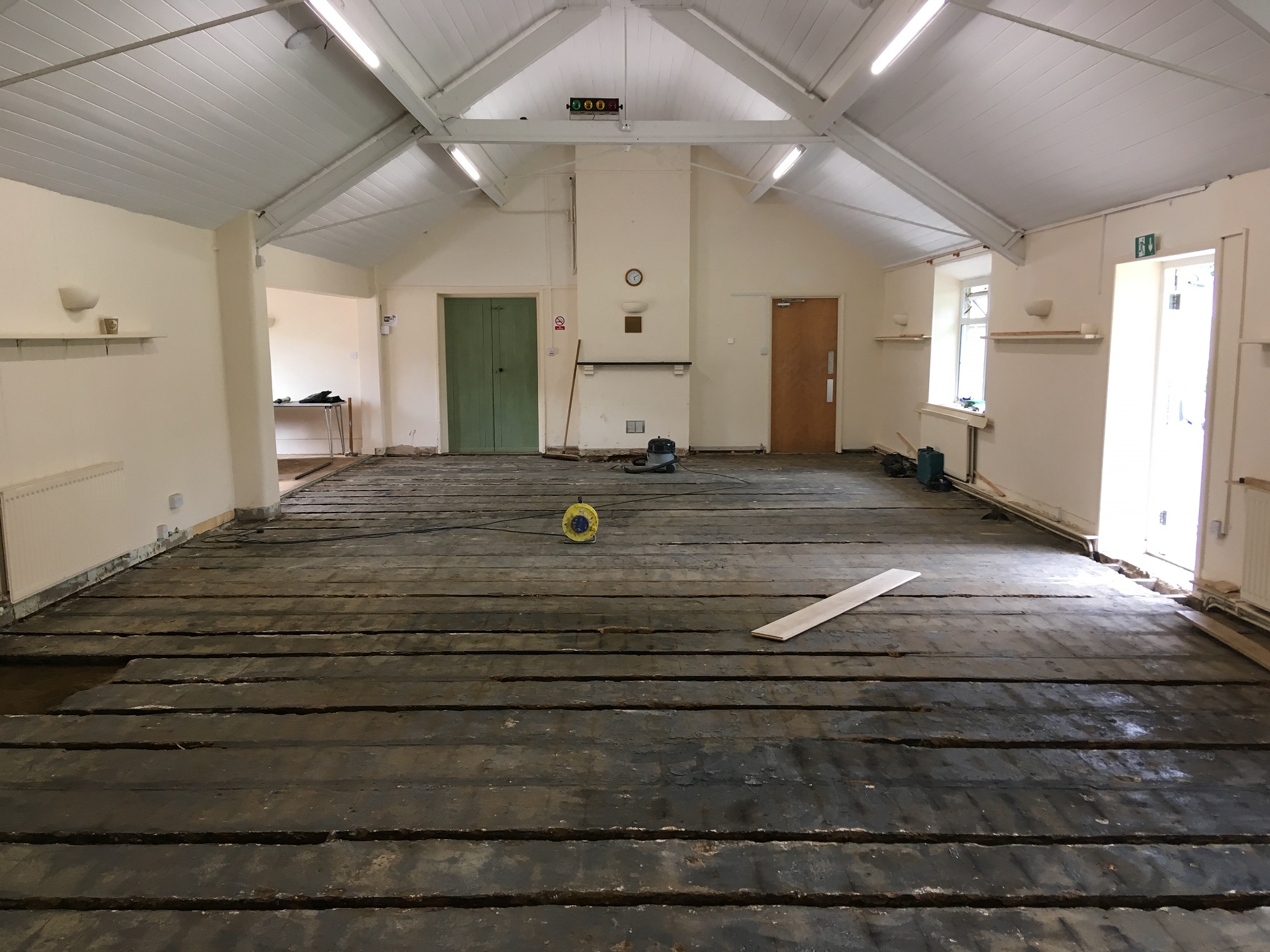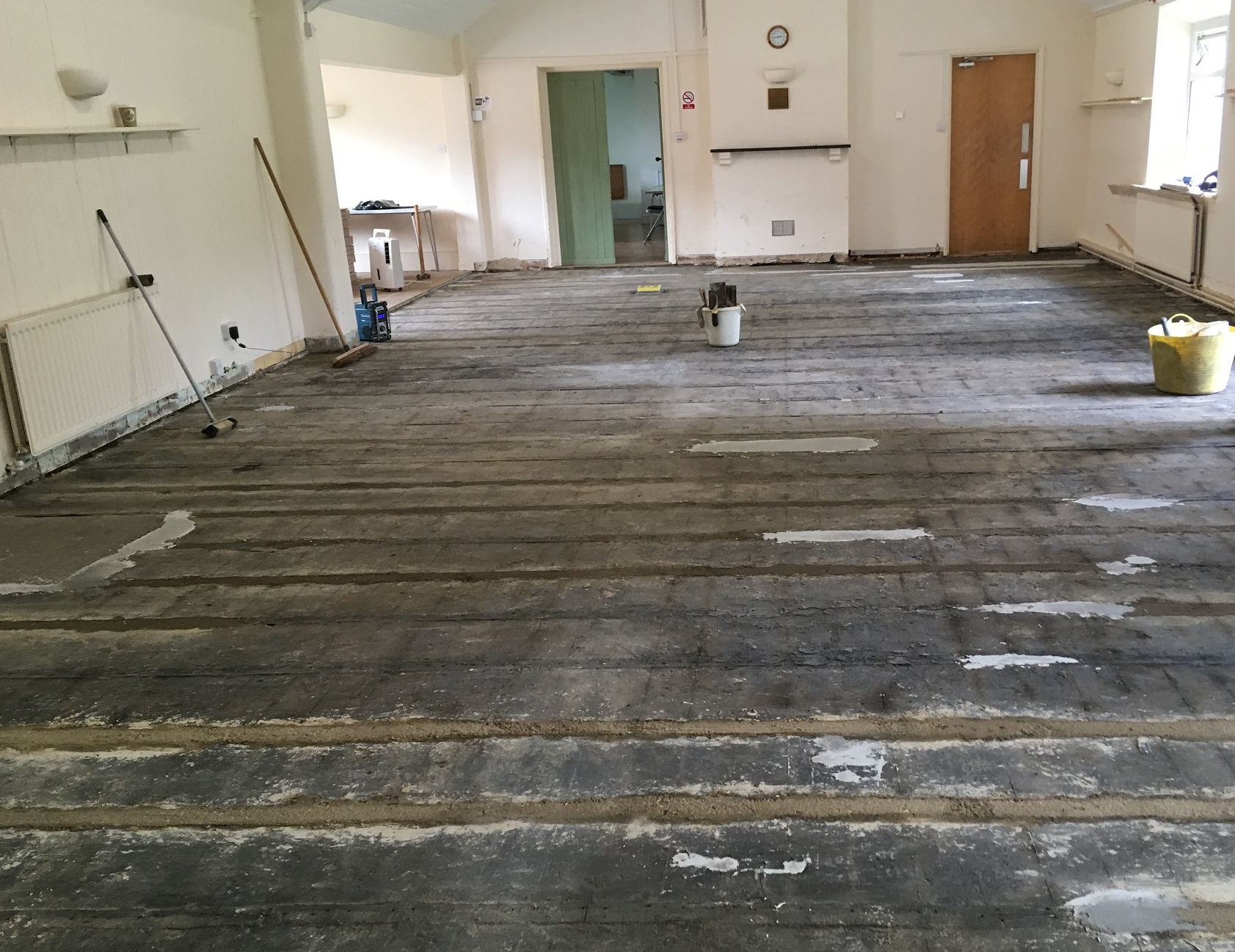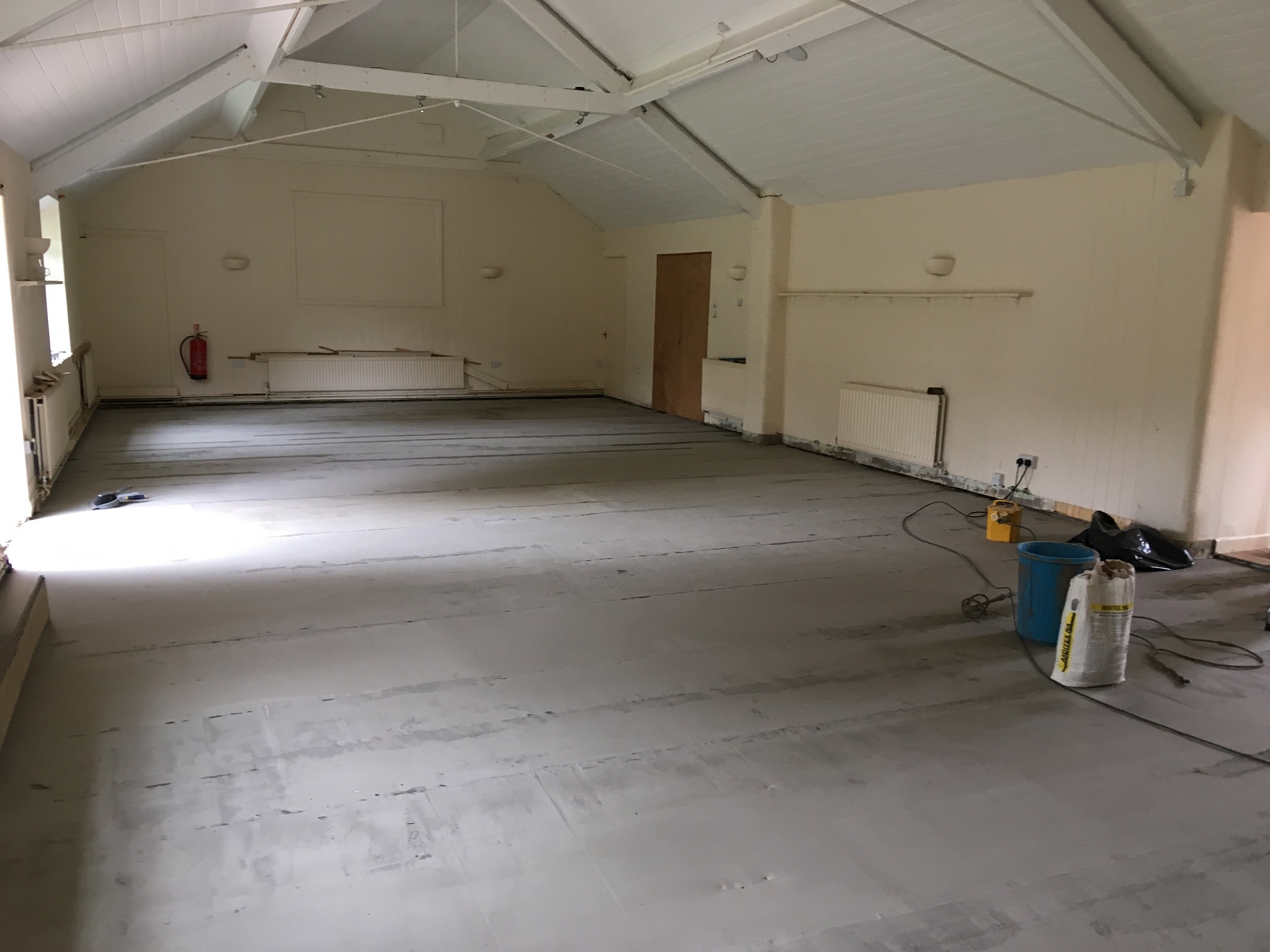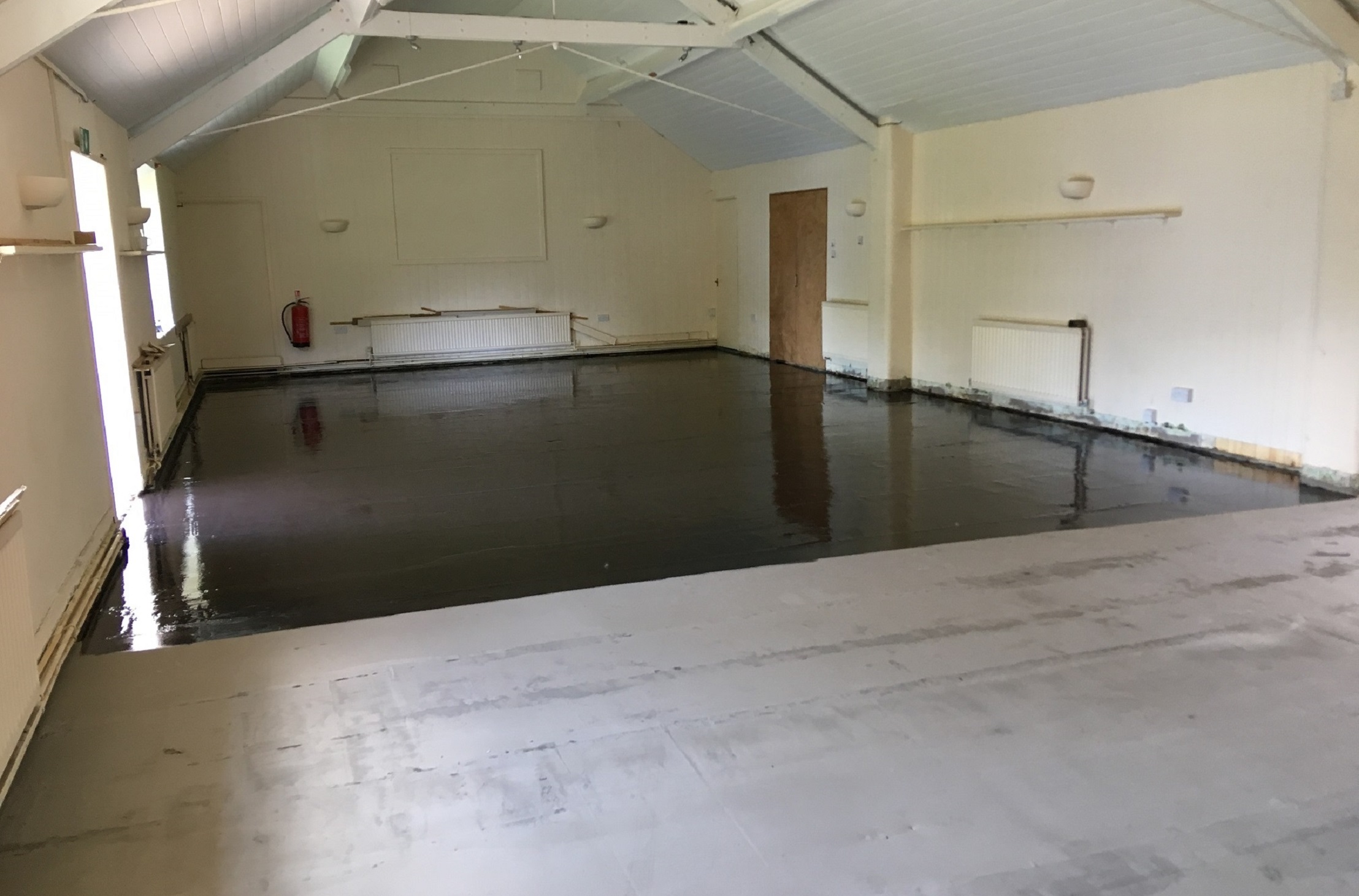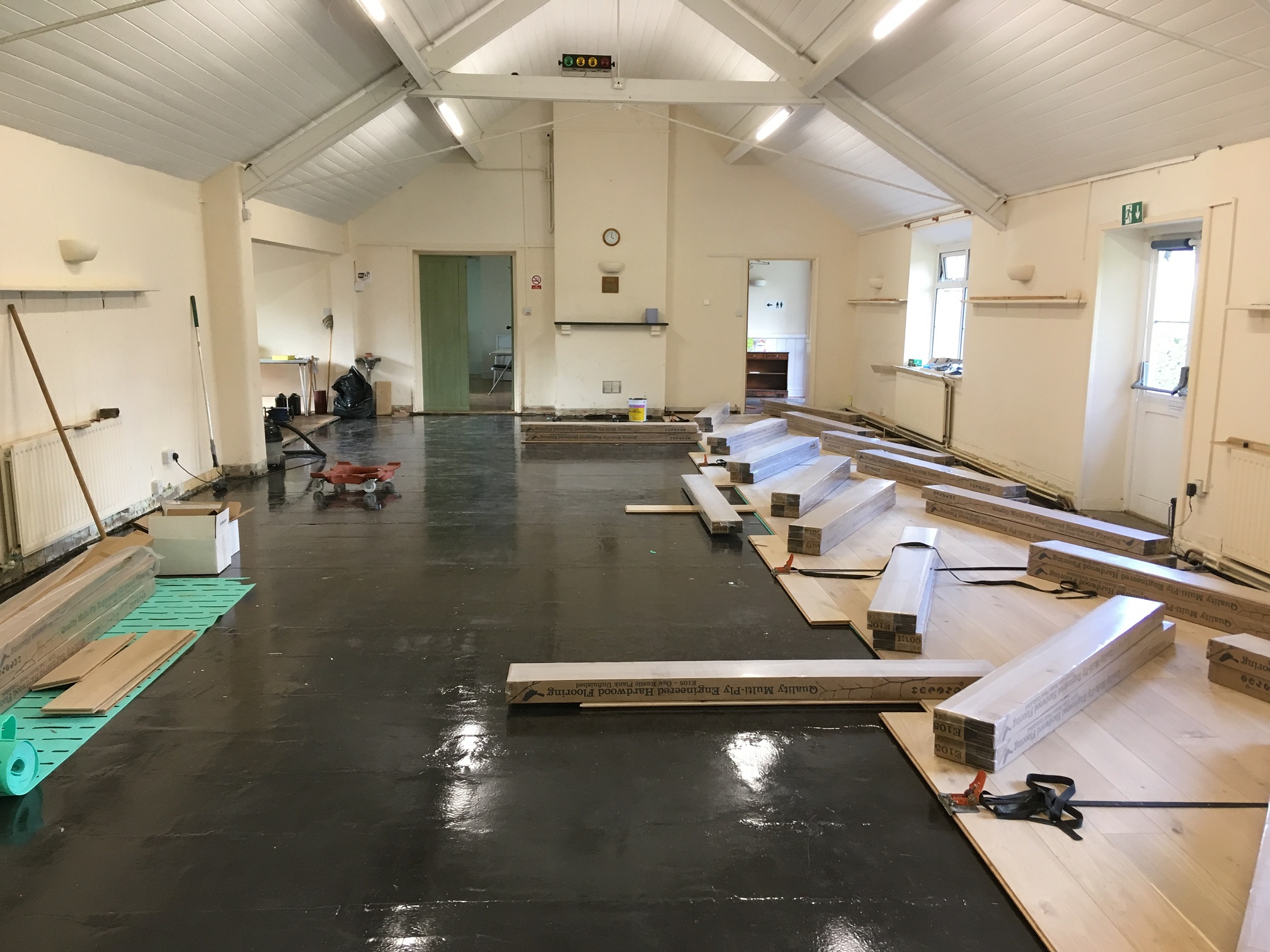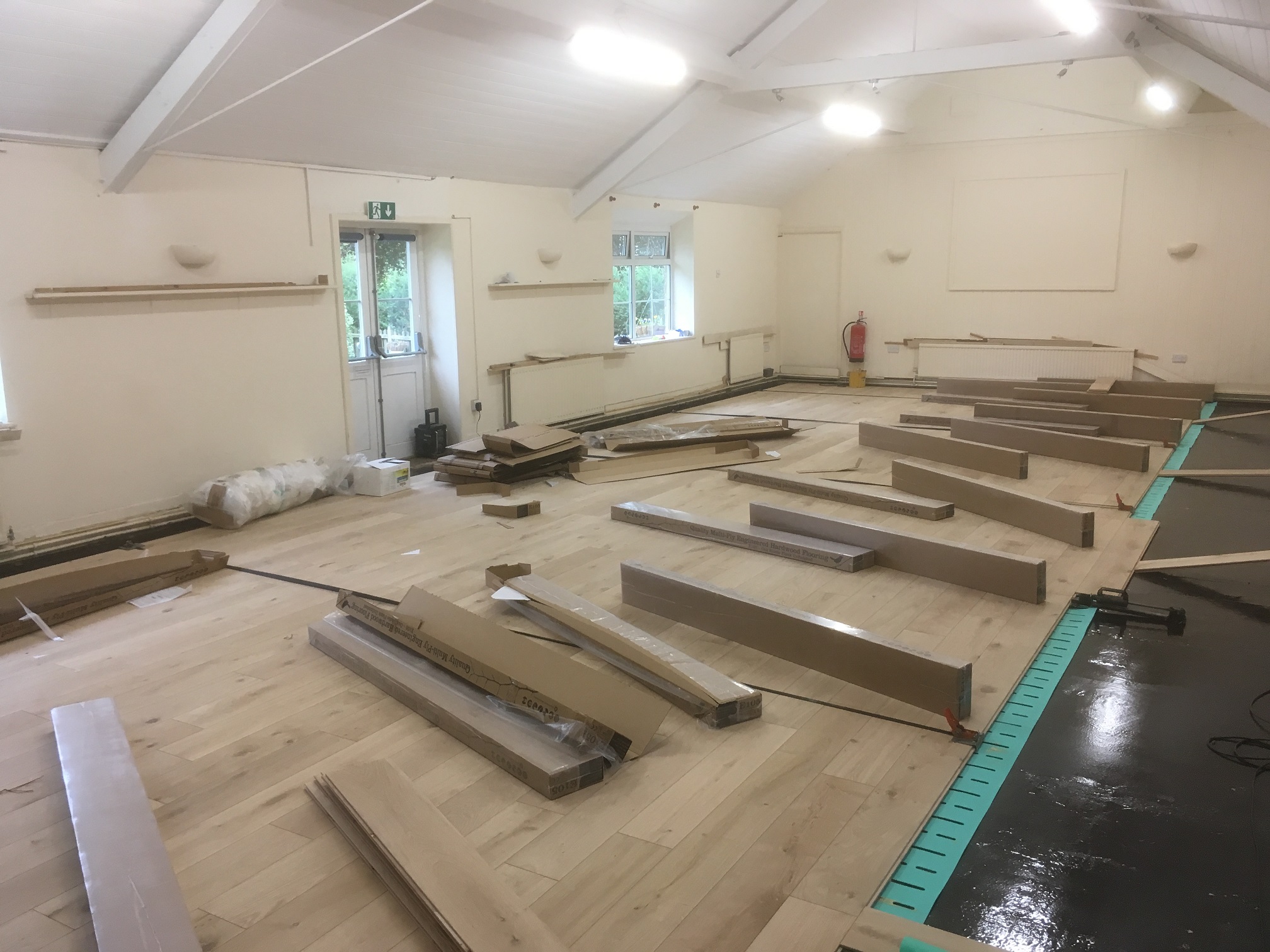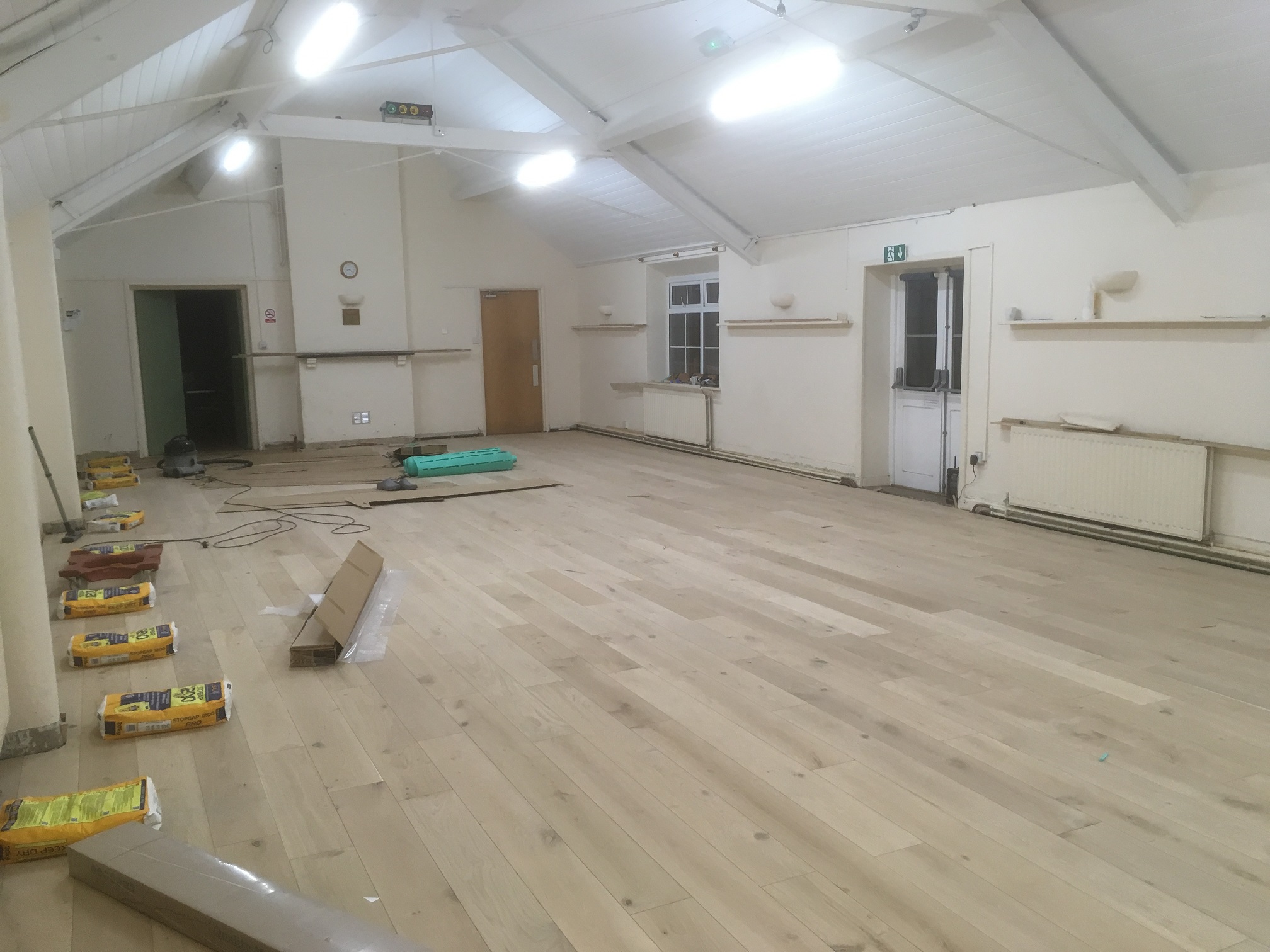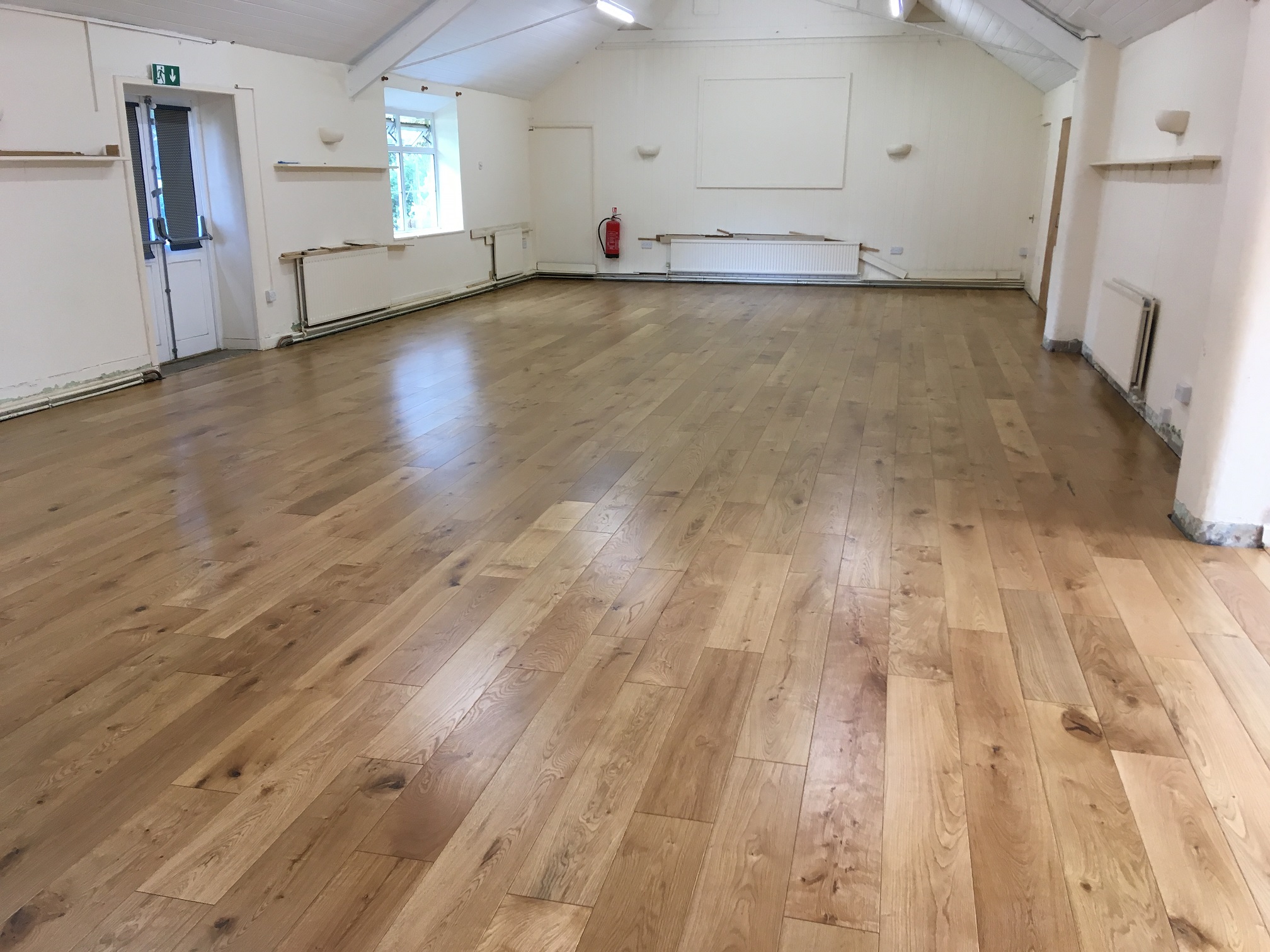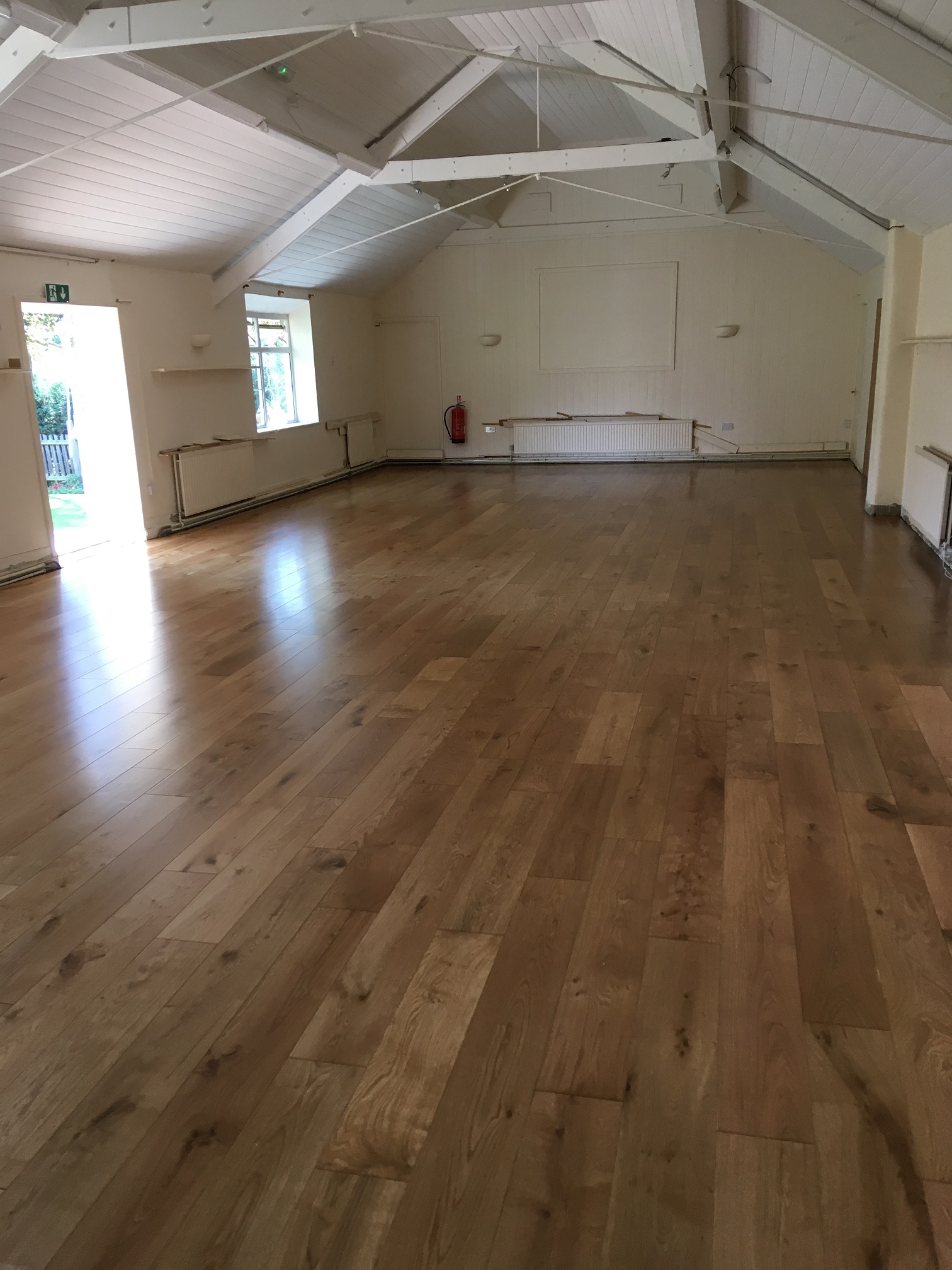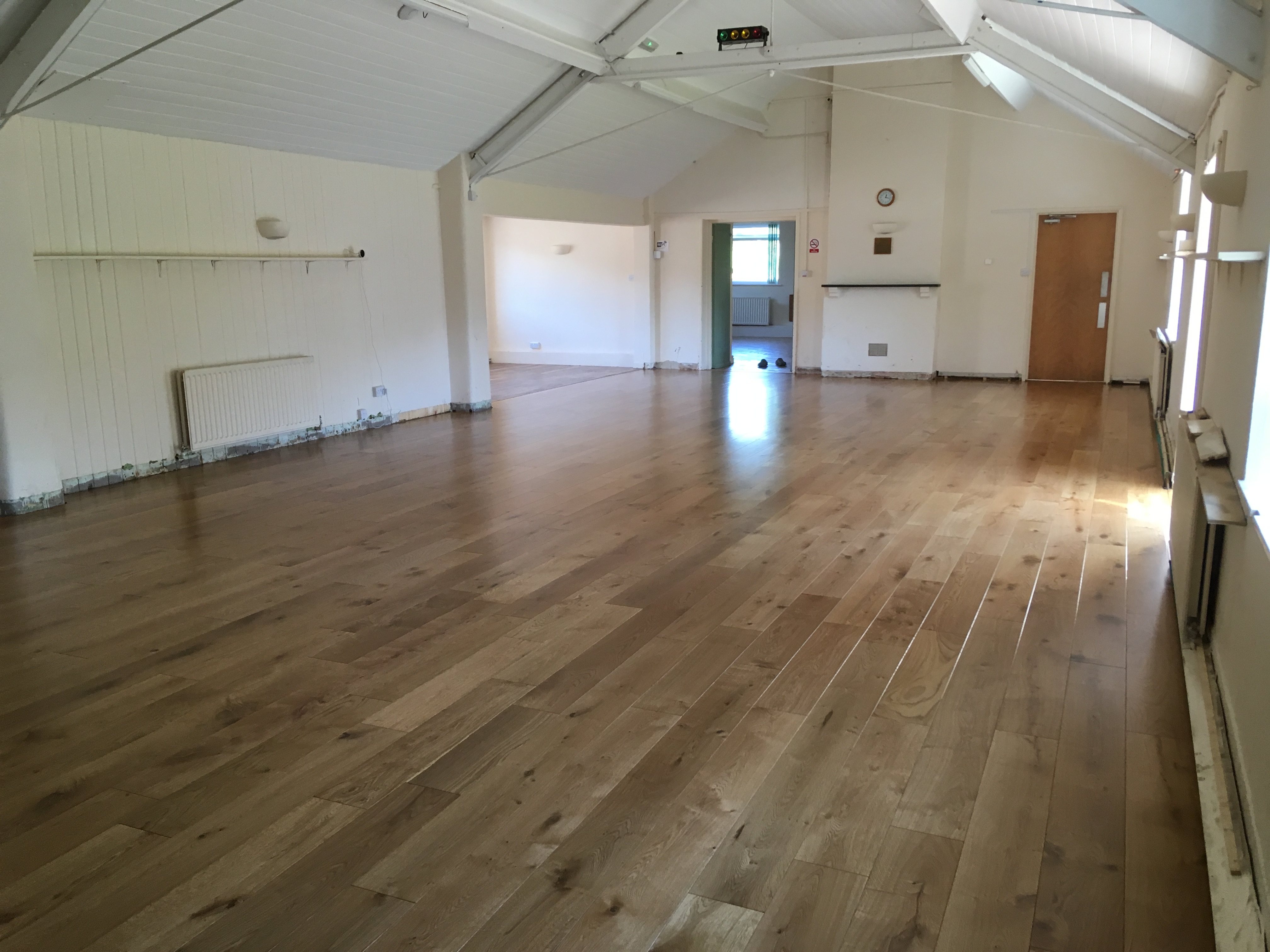 JT 05/09/2018
---
Spot the difference
Sharp-eyed residents will have noticed something different about the hall in the last couple of weeks - and for the rest of us here's a couple of 'before' and 'after' photos to demonstrate the change. ( And no, the answer isn't that the sky is now blue ! )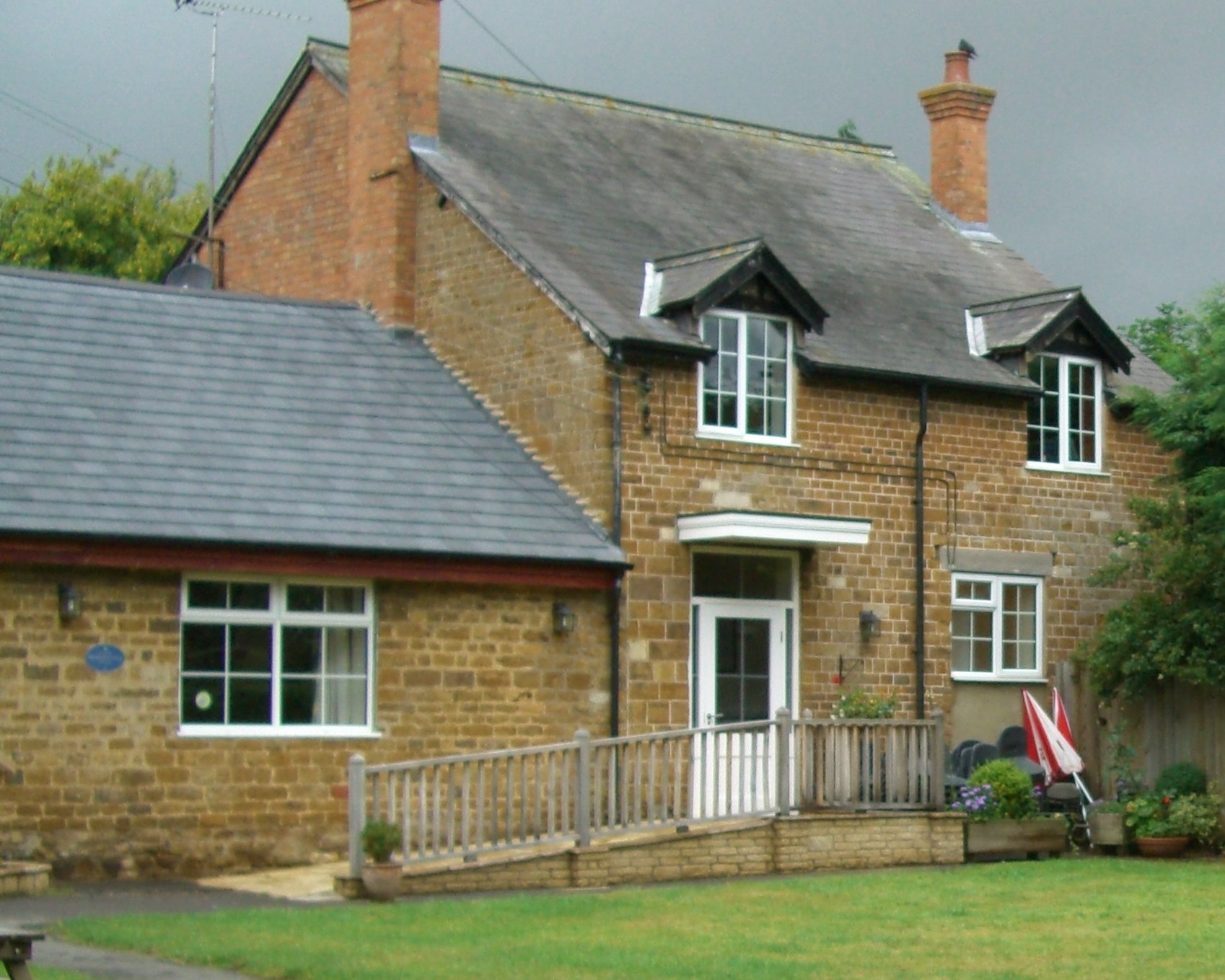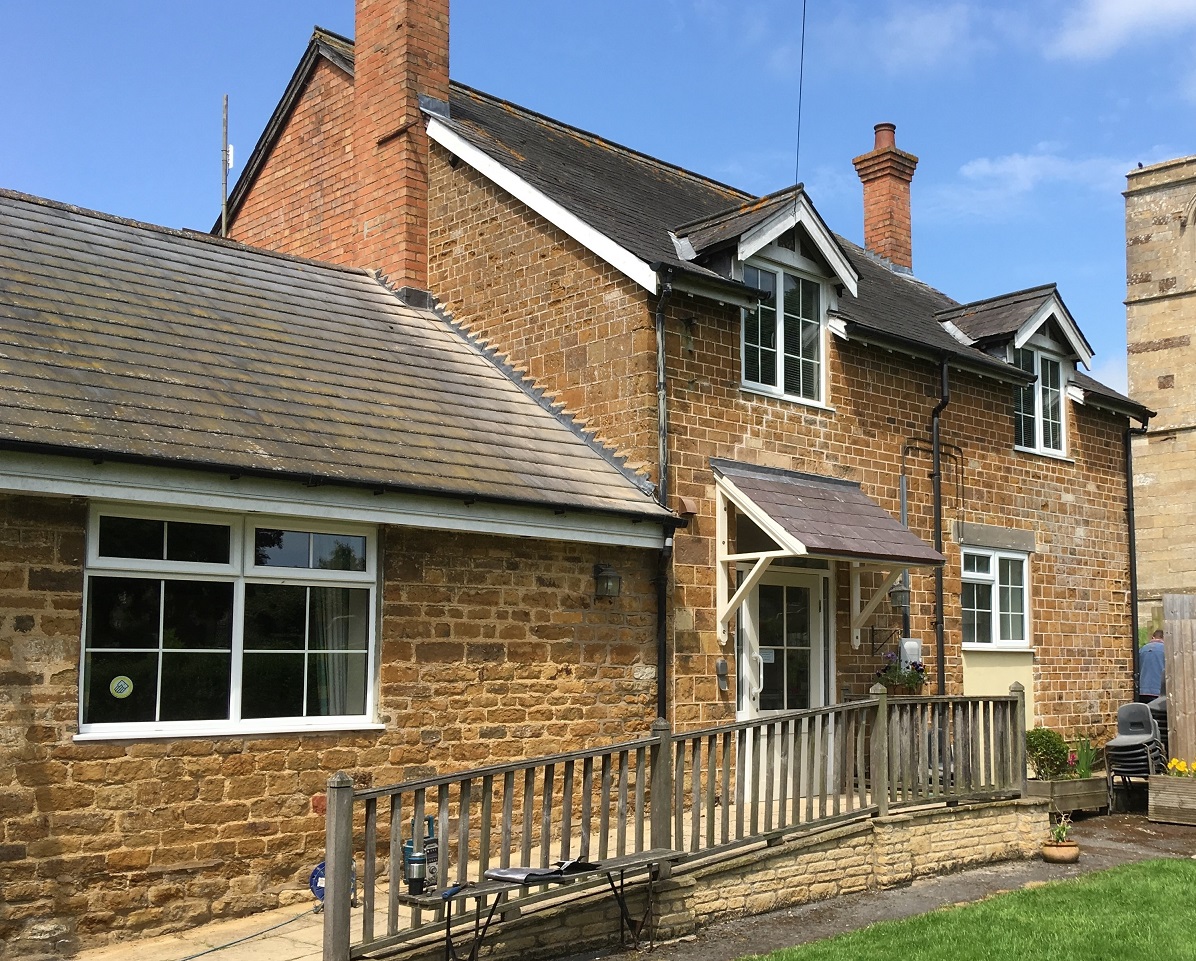 Thanks go to Jim and Phil for the design and execution of our new porch - the old one failed a routine structural inspection and needed to be replaced.
We have a number of other care and maintenance jobs ongoing at present, all part of our general building upkeep programme.
JT 20/06/2018
---
Toddlers Group discontinued
The organisers of the Thursday morning Toddlers Group have told us that the group has now been discontinued, and thank everyone who has supported it over the years.
The village hall would like to thank Sue for setting it up and running it for many years, and latterly for doing the group's admin.
JT 15/05/2018
---
Sad news from the hall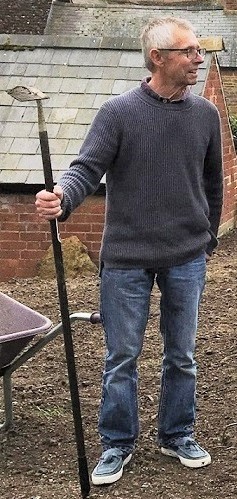 Steve Stafford, our caretaker for more than 20 years was unexpectedly taken ill last month, and died on April 2nd in Leicester Royal Infirmary.

Steve has been a familiar face to most people hiring the hall, making sure that everything was ready for bookings, and also working hard to maintain and improve the fabric of the building, and to keep the gardens looking colourful, especially for events during the summer months.
He was also well known around the village, whether out walking his dog, cycling on various bikes ( including that scary-looking recumbent one ), working on many of our houses, or just enjoying a drink in one, or both, of the village pubs.

Steve's funeral service will be at All Saints' Church on Weds 18th April at 11am, following which we will celebrate his life in the traditional way at the Blue Ball. All are welcome.
JT 11/04/2018
---
Another great quiz night
About 50 hardy souls braved the elements on Friday to enjoy the first quiz night of 2018. With a bit of people-juggling to make up for those who were snowed out, we ended up with eight teams and settled in for some brain stretching questions starting with things beginning with 'A' and going via film quotes, 2017, royalty, locate that statue, musical connections to the last round called, appropriately, 'lasts'. And it wasn't just brain work, as one round involved rushing to the adjudicator's desk after every question to personally deliver the answer - I'm not sure who got the extra points for the best silly walk ( Clare's cartwheel

was impressive but possibly disqualified), but Peter Allen certainly did the most mileage.
A break halfway through gave us the opportunity to tuck into baked potatoes and chili, followed by an amazing variety of traybakes and tarts, and the evening was lubricated with the usual offerings from a well-stocked bar.

Scoring was pretty close, with the lead changing regularly throughout the evening, but in the end it was Debbie, Mark, Clare, Tony and Karen who took the first prize honours

, closely followed by quiz newbies Mike, Tamsin, David and Chrissie. There was also a consolation prize for the losers, but we'll spare their blushes and keep quiet on their identity !
As always, thanks go to all those who helped make the evening a success - Tracy for the questions, and Nick for compering in his usual excellent style, members of the hall committee for the planning and catering management, Paul for running the bar, and Debbie, Clare, Linda and Pat for the yummy desserts. And to everyone who helped with the washing up and clearing away afterwards - it is always very much appreciated.
All proceeds will be split between the village hall, and the church, and we'll probably do it all again later in the year.

JT 04/03/2018
---
Full steam ahead for the May Fayre
Preparations for this year's May Fayre are now under way - keep an eye on our
May Fayre
page for the latest news.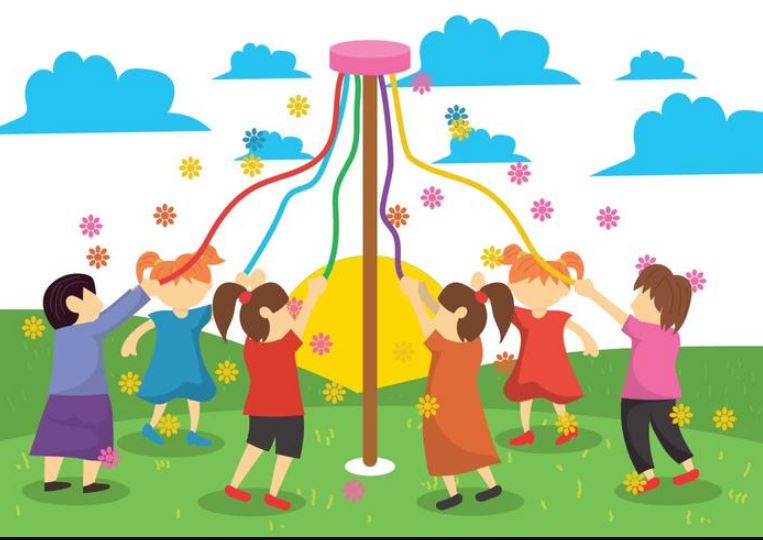 Fancy helping out? Get in touch and find out how you can take part in making the day a success, it's good fun and a great way to meet new people around the village.
Also, calling all kids. We need you to join the maypole dancing team, boys and girls from about 4 years old and upwards, practice in the village hall on Sunday morning and then close the show on the day. Ask your Mum or Dad to give Sylvia a call on 756457 for more details.
JT 23/01/2018
---
AGM - Monday 19th March 2018
The AGM for Braunston and Brooke village hall will be held on Monday 19th March at 7.30pm in the small hall. All villagers are invited to attend and we would very much like to hear your ideas and feedback regarding the village hall and its uses.
A number of people are stepping down from the committee this year so we urgently need new committee members. If you would like to get involved, please come to the AGM and let us know, or email us at info@braunstonvillagehall.co.uk.
The Village Hall is a wonderful resource. It enables a wide range of regular and 'one off' activities and social events to take place in the village. The building and grounds have been improved year on year and we have a well organised management system in place. We just need a few more people to volunteer a little time to be committee members to help keep the place running smoothly. There are just six committee meetings per year. If you want to know more give Rob Anderson a call on 07900 535250.
RA 15/01/2018
---
More improvements to the building
Visitors to the small hall may notice that it's suddenly looking a lot brighter. We've renewed two of the three windows and have replaced the frosted glass with plain glass which gives the room a much more open feel. There is now a good view of the church to the west, and whilst the garden outside currently looks a bit unfinished we hope to get it planted up once the weather improves in the spring.
JT 15/01/2018
---
New Baking Classes from Lovely Loaves
Starting next February, Leslie Gadd will be running a monthly baking class in the hall. Leslie is a former lecturer at the National Bakery School and already runs classes in village halls and other small venues to the north of us. He's now invading Rutland and has decided that Braunston is the place to be.
Every month will be different including cakes, pastries, biscuits, buns, rolls, and breads with seasonal recipes from the UK and Europe. The three-hour classes will be on Thursday or Monday evenings and cost £40 which includes all ingredients and equipment - all you need to bring is an apron and a tin to take home your goodies. You can sign up for as few or as many sessions as you like.
For further details, including dates and contact details have a look at Leslie's publicity leaflet or visit his website at www.lovely-loaves.co.uk.
JT 16/11/2017
---
Pilates update
Well, we may have lost the zumba, but we have an additional Pilates class starting on Friday mornings at 10.15am. Alison's existing 9am class is now oversubscribed so she's starting a second class for a trial period. If you're interested, get in touch with her on 07496 814825, or email alisonsentance@gmail.com.
Pilates is a great floor-based exercise regime, designed to strengthen core muscles and improve flexibilty, and has something to offer people of all ages and ability levels, from beginners to elite athletes. Give it a go for the autumn.
JT 11/09/2017
---
Zumba update
Unfortunately Mark has decided to cancel the Monday night Zumba class. Thanks go to him for getting us moving over the last few years, not always a pretty sight but always good fun ! If anyone knows of another instructor who would like to take over the slot then please get in touch.
JT 05/09/2017
---
Flower and Produce Show
Once again the skills of our local gardeners, bakers and crafters shone in the village hall on Sat 12th August.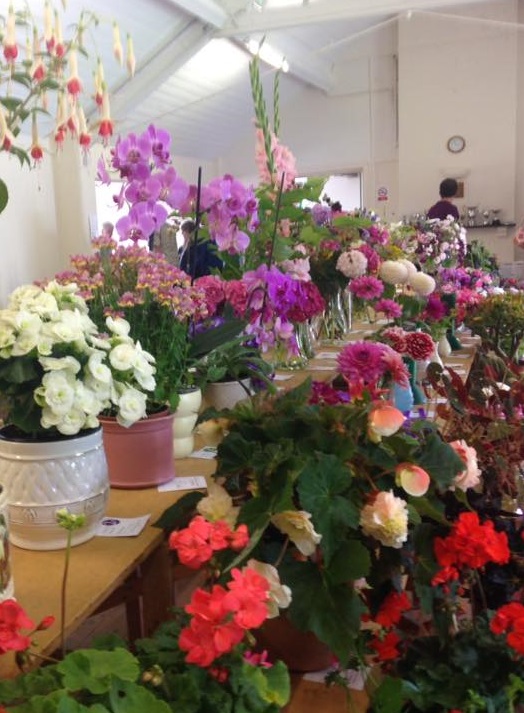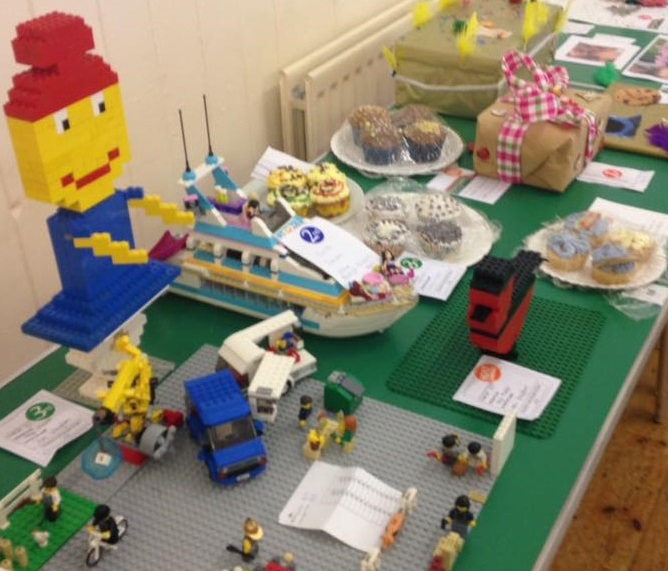 The competitive spirit is obviously alive and well in the area as the hall was full this year with over 400 entries in 92 different categories. Vegetables of all shapes and sizes, flowers to put a florist to shame, gallery standard arts and crafts, creativity from the children, and cakes and preserves that you just wanted to take home and eat ! Luckily any cravings on that front were well satisified by the excellent refreshments available.
Outside in the garden there was a fantastic bargain bookstall with hundreds of books on all sorts of subjects, and the usual gardening club stall selling plants, produce and home baking. For those with the gambling instinct there was a well stocked tombola - although the heady satisfaction of winning doesn't always last; the giant tin of baked beans was later auctioned off to someone whose household maybe had more use for it ☺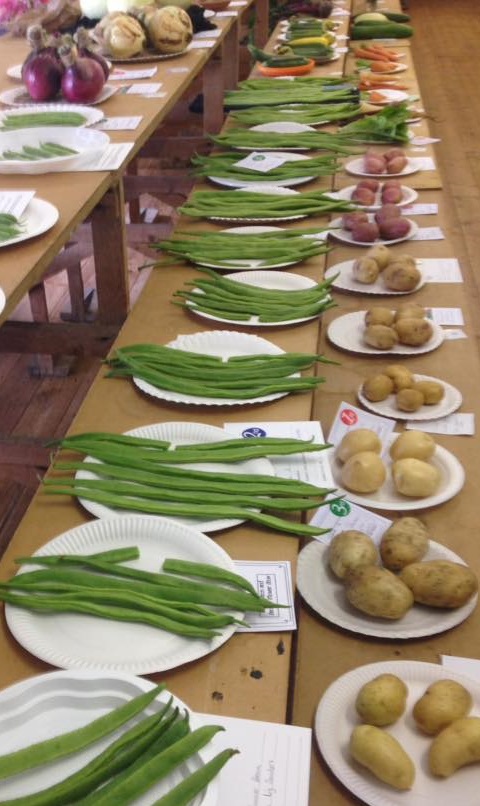 At the end of the afternoon there was the usual cup-giving and raffle draw. Among the many winners, stalwart David Stewardson excelled with his vegetables, Maisie Wright took the jams and preserves crown, and Linda Jenkins won best in show with her amazing needlework map of the the Netherlands. Tracy Waterman won top prize in the raffle, and your reporter was once again the Braunston lettuce queen ( possibly due to being the only entry in the category ! )
These village events take a lot of organising, so many thanks to the Gardening Club who took on the mantle this year and made the day a success. Thanks also to all those who helped either on the day, or with baking cakes for the refreshments.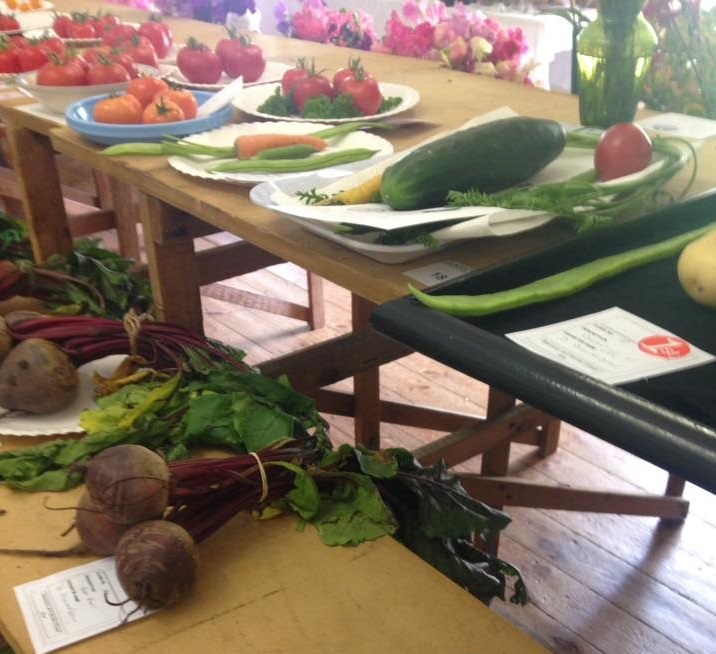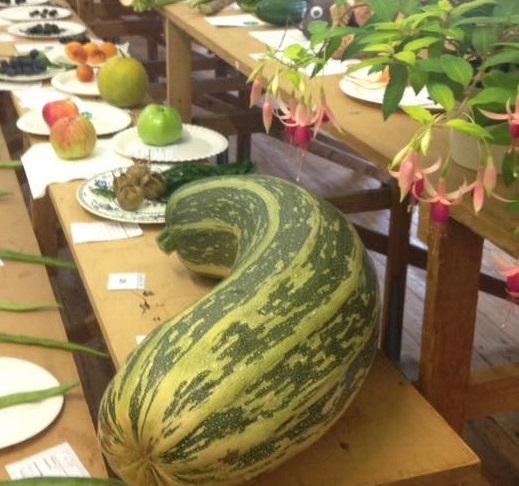 JT 19/08/2017
---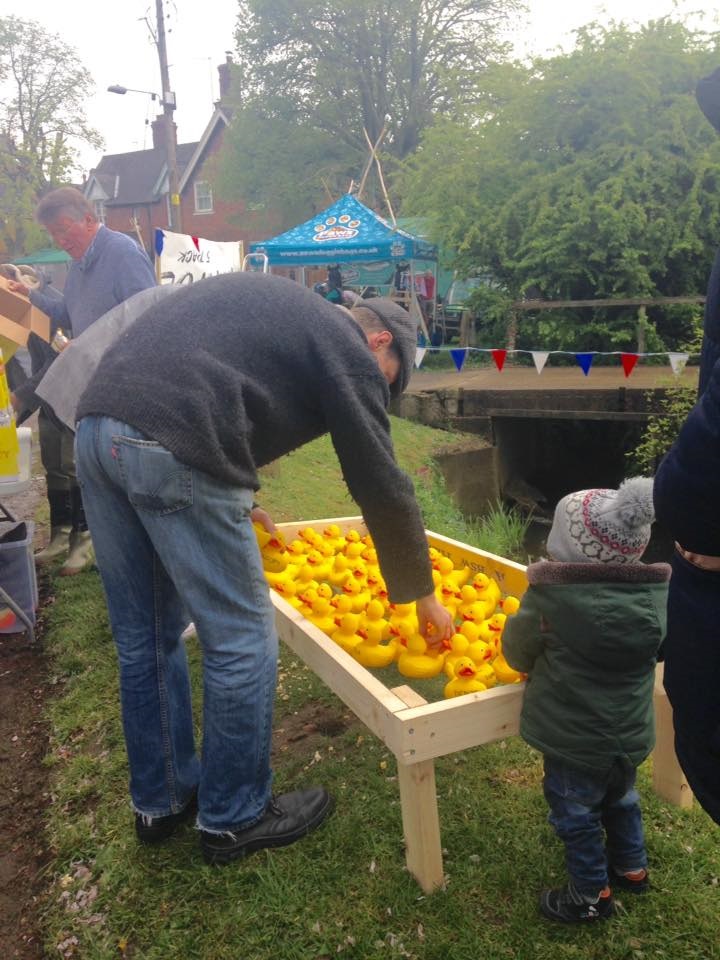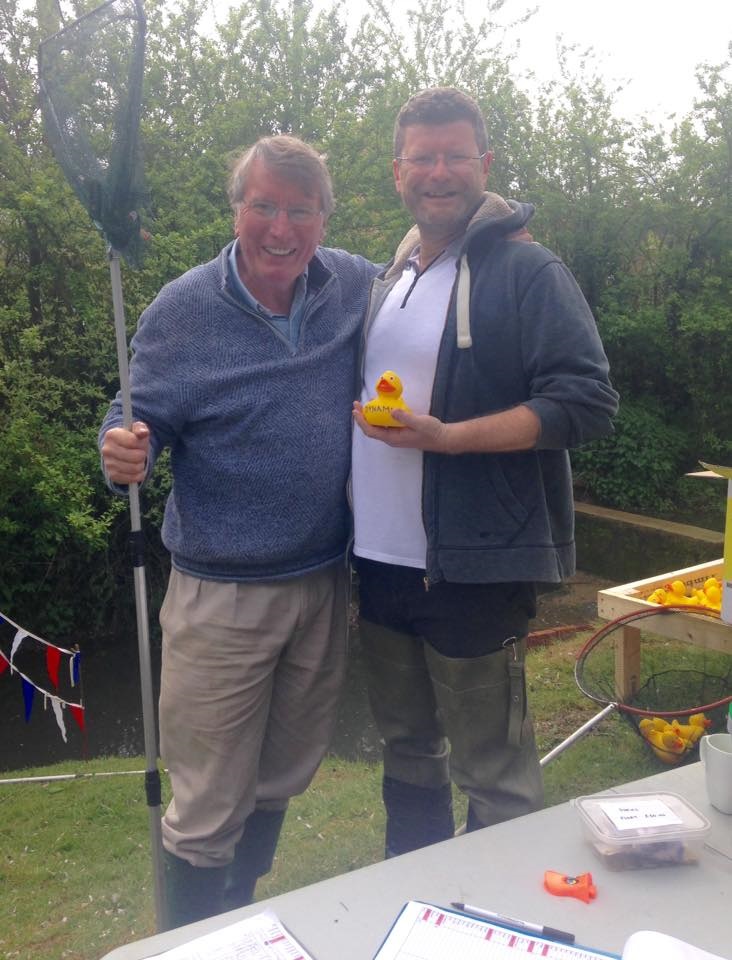 The 2017 May Fayre went swimmingly (especially for the ducks!). After a drizzly early morning, the weather looked kindly on the village, and brought out the crowds. We reckon that there were around 1600 visitors to Fayre in all, which made for a fun and buzzing atmosphere.

All the traditional and well-loved Braunston Fayre events were there, including the Dog Show, live music, market, craft stalls and games. We had vintage cars on the village green, and a new addition this year was laser skeet shooting, much more difficult than it looks ! This year's Duck Racing saw the introduction of 'The Quack National' hotly competed by all the sponsored ducks.

The village hall did a roaring trade serving quality homemade cakes, rolls and teas, and provided much welcomed sustenance for villagers and visitors alike.

Special note must go to the Maypole dancing, an event which keeps old country traditions alive. This year, Fiona Willets took the reins and coached the young dancers through the routines, supported by Sylvia Matthews who has led this for many years. It was lovely to see so many of the village children getting involved in this time-honoured spring tradition.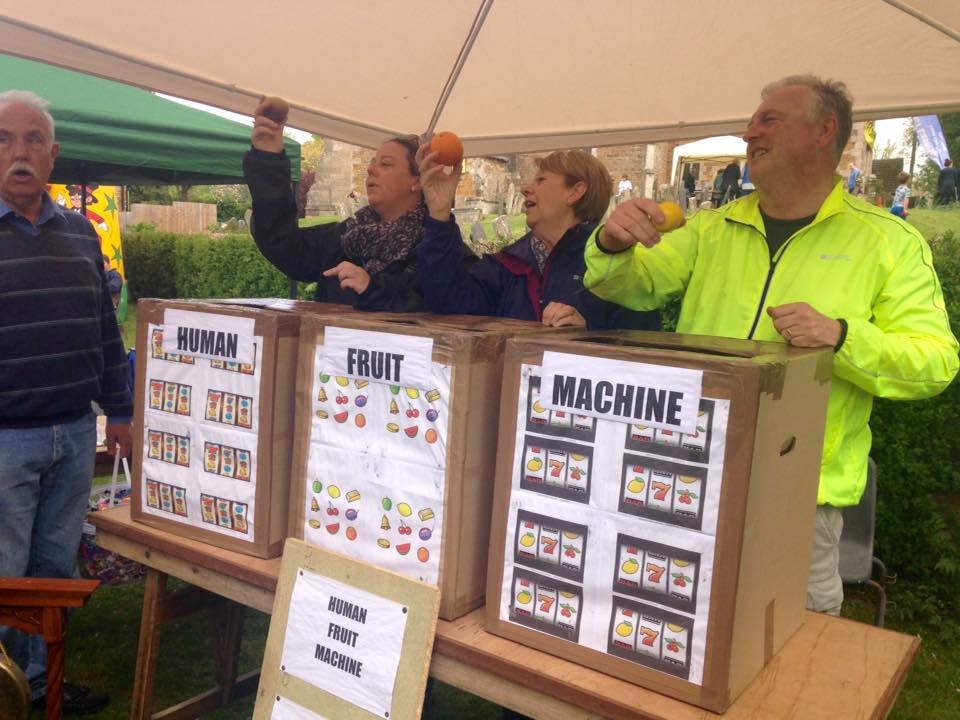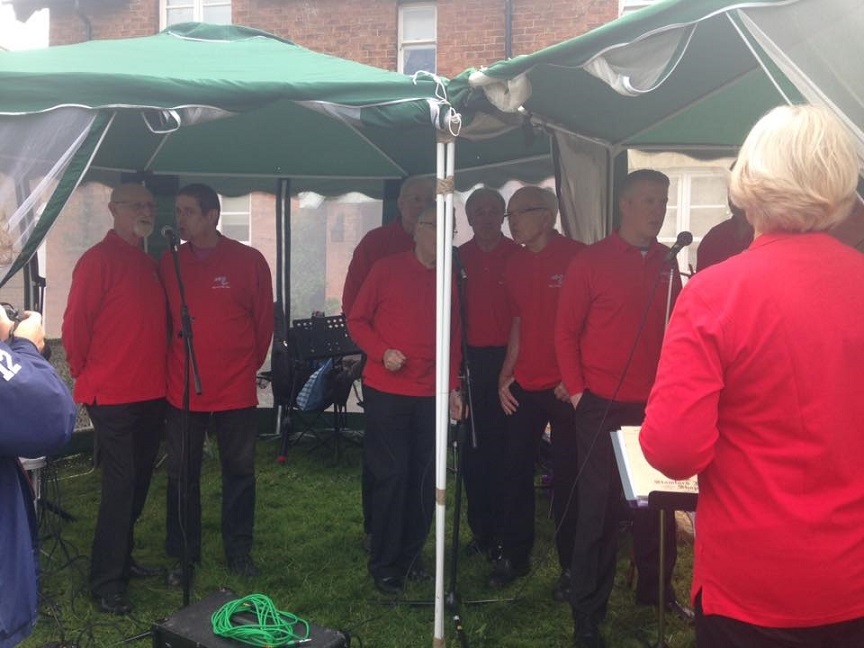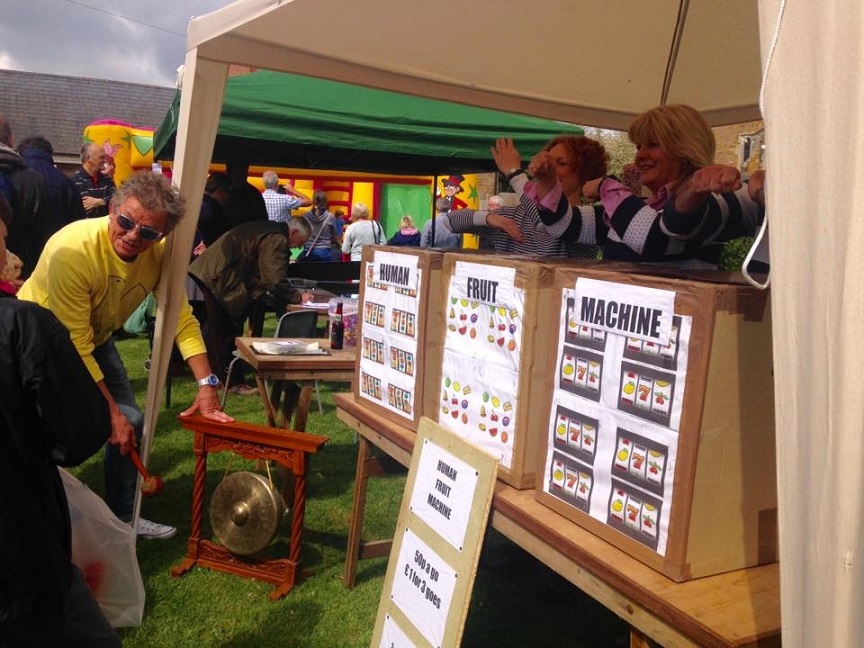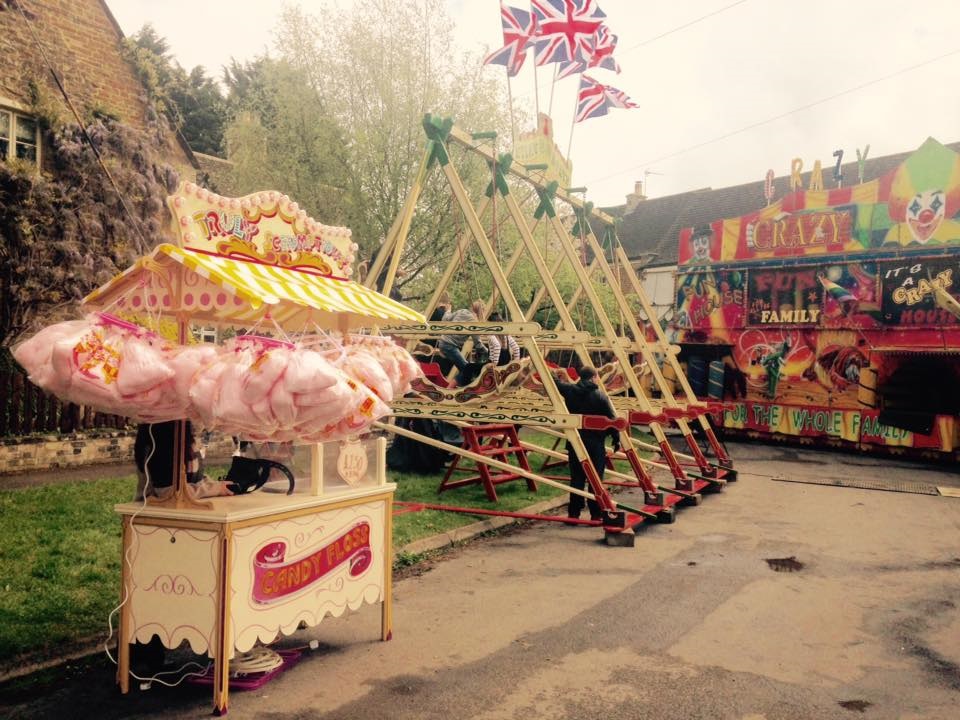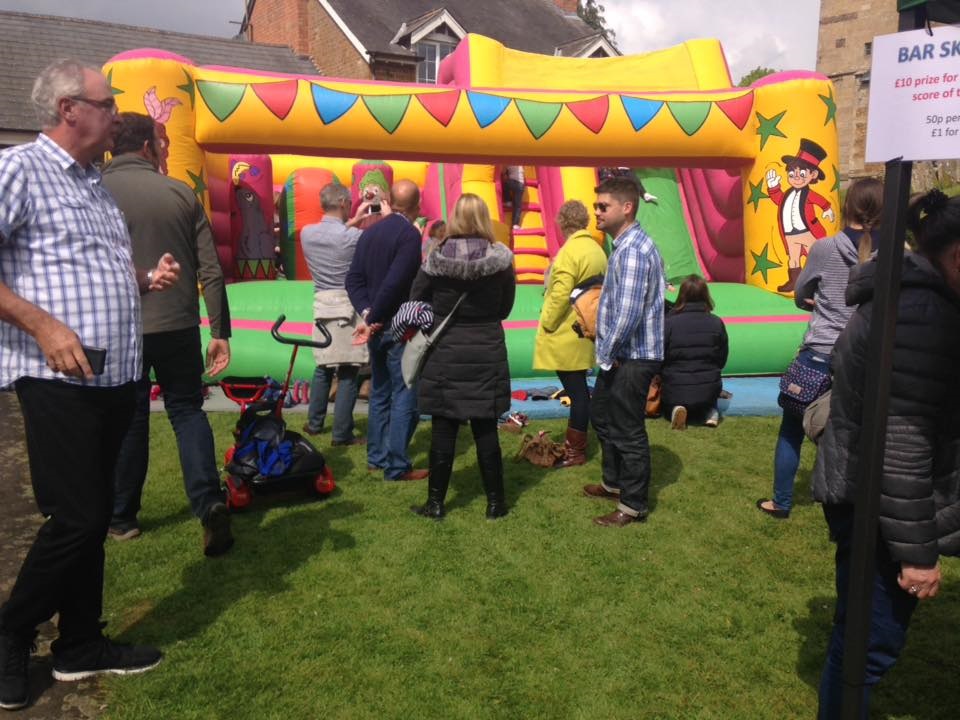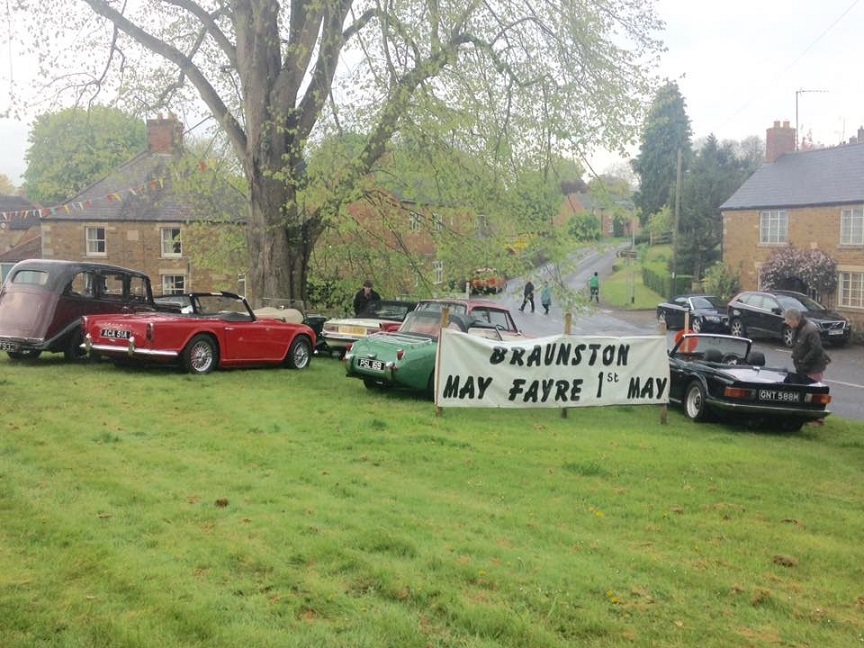 Unaudited accounts indicate that the Fayre raised just under £6,600 which will be shared between the Church, the Village Hall and Dove Cottage Hospice on a 40/40/20 basis. The charity 'Pre-event' band night at the Blue Ball in April raised almost a further £1,300 to add to this total.
The event wouldn't be a success without the support and participation of so many villagers, so a big thank you to everyone who took part in the fun or helped to run an event, and a special thank you and well done to Mike & Tamsin Fagan in their first year as Fayre organisers.
---
Garden improvements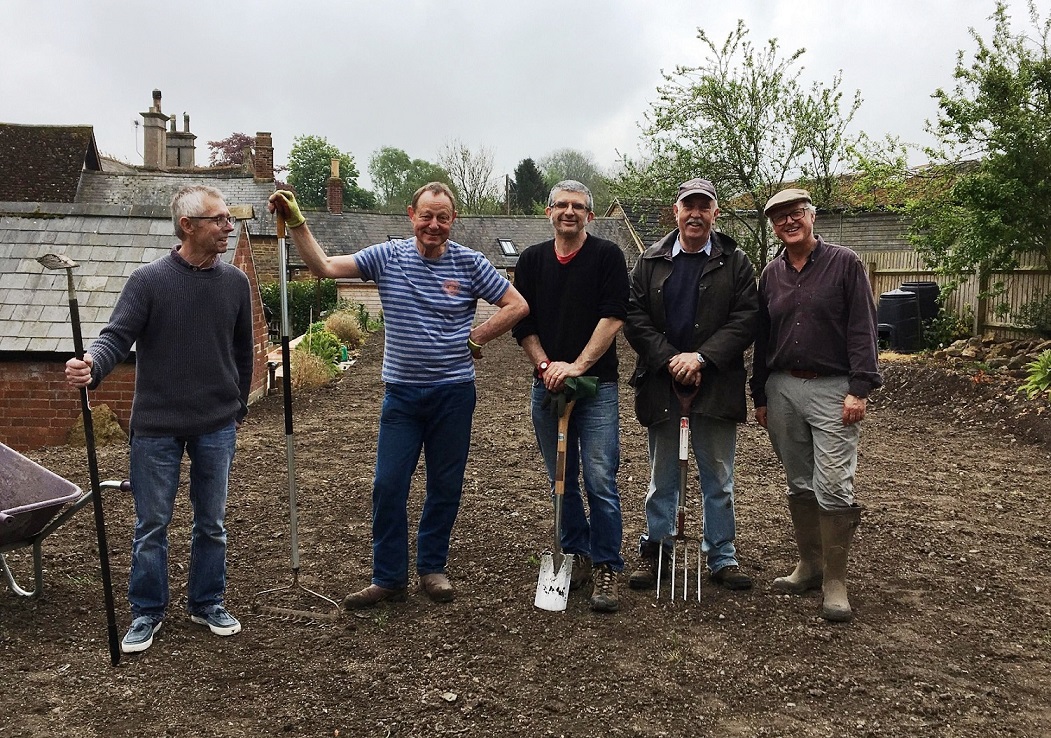 An intrepid team of lawn experts gave up their time on a rather damp Friday morning to rotovate, level and seed the garden area at the back of the village hall. This follows on from much needed improvements done last year to rebuild the retaining wall, replace the old storage container and do some general building work on the toilet extension.
Thanks to Rob Anderson for organising the squad, and to all who helped out.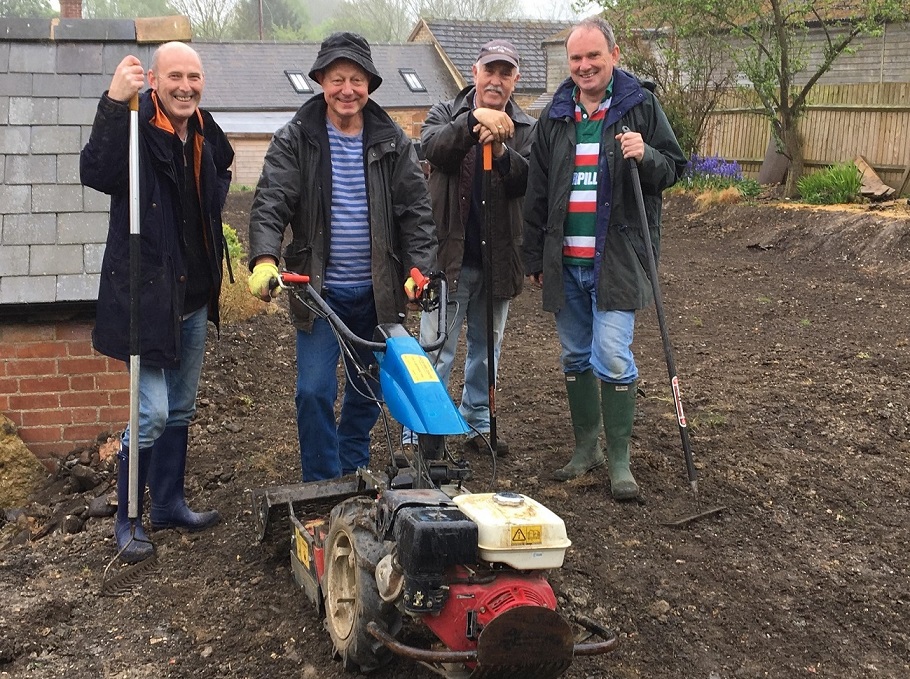 JT 14/05/2017
---
New village residents
After many years of loyal service, the decision has been taken to retire the May Fayre ducks and let them waddle off to the Braunston rest home for mature quackers.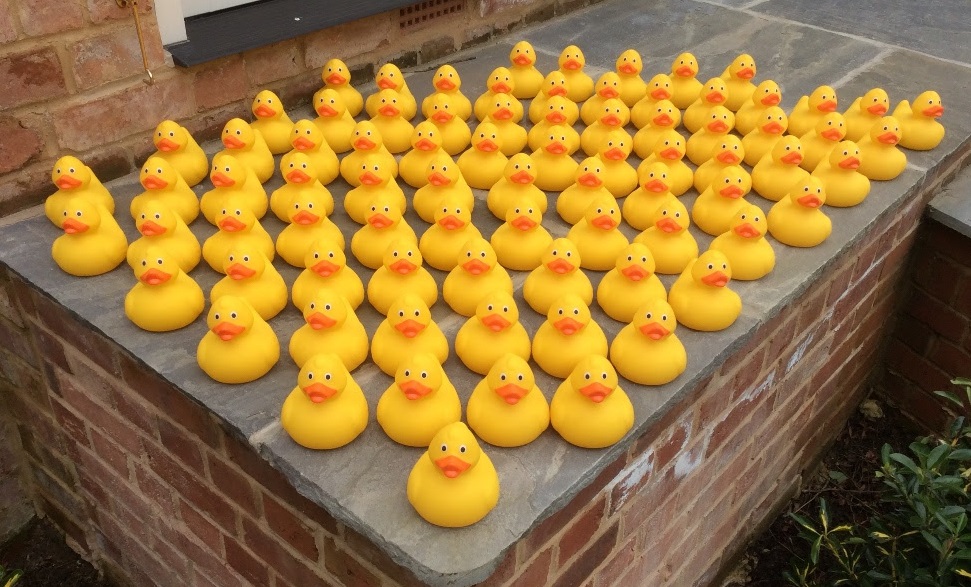 But don't fear, because a new herd have moved in and are currently in training for the annual duck racing bonanza. We don't know anything about their form yet, and it might take them a while to learn the course, but we're sure that by the time of the Duck Race on May 1st they will have learned the ropes. Place your bets soon !
JT 10/04/2017
---
Brains under pressure
We had another successful quiz night in the hall last Friday night; with excellent questions and compering from Tracy & Nick, a well-stocked bar run by our occasional publicans Paul & Cheryl, and a superb supper co-ordinated by Janet & Pat with contributions from Braunston's excellent bakers and chili makers, it was another sell-out evening. Proceeds from tickets and bar will be split between the village hall and the church, and money raised from the raffle will go to the local Air Ambulance.
Many thanks to everyone who helped out, including the throng of people helping with the clearing away. The organisers are all resting now, but will hopefully be revived later in the year for another bash !
JT 26/03/2017
---
Hedge update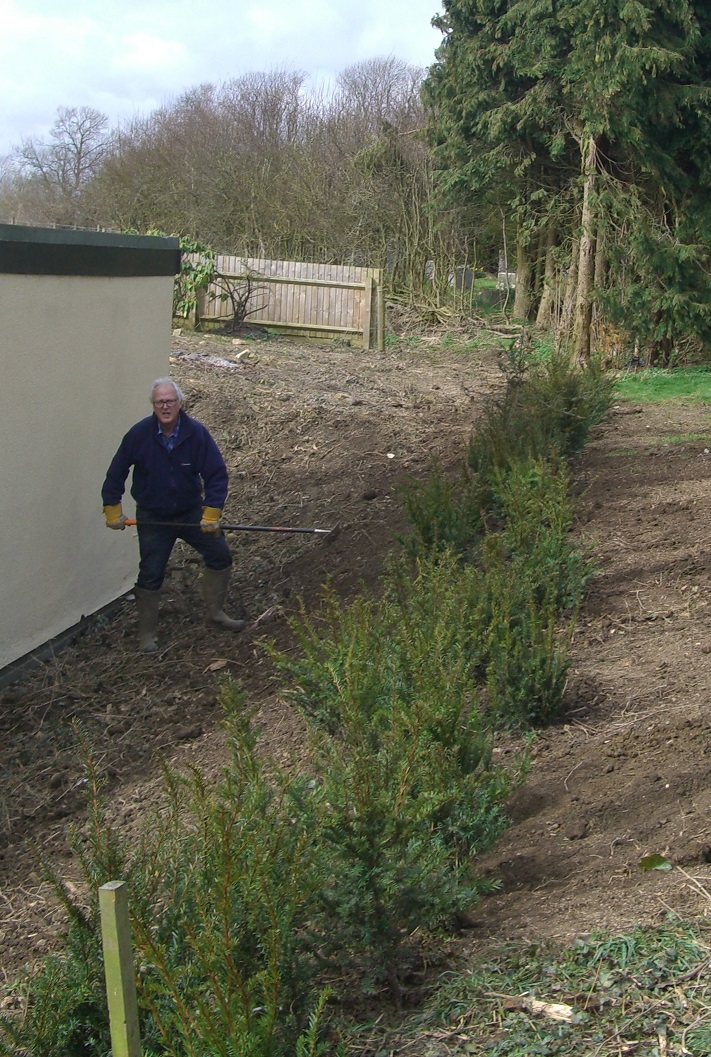 A group of intrepid villagers were to be seen hard at work last Saturday planting the new yew hedge between the hall and the church. With the delivery of bare-rooted plants at the end of the week before, it was many hands making light work to get them planted in the ground as soon as possible. We now have a very neat hedge which hopefully with some regular watering will flourish. The ground either side of the hedge has been seeded with grass, so by summer we should have a much improved area in this part of the churchyard.
Thanks to Rob for ordering the trees and organising the work-party, and to all who took part.
JT 21/03/2017
---
New ovens in the kitchen
Two new ovens have just been installed in the village hall kitchen. The previous ones had done sterling service since the kitchen upgrade many years ago, but sadly the door hinges had loosened beyond repair meaning that the oven doors no longer shut securely. We've replaced them with two Neff ovens with 'Slide and Hide' doors which hopefully will minimise the likelihood of excess weight being placed on them. Together with the new induction hobs installed last year our cooking facilities are looking pretty swish !
JT 15/02/2017
---
New Parish Council website
Only slightly village hall related, but the Parish Council have just launched their new website. It has all the latest information about Parish Council activities, plus general information about the village and what's happening, and links to external bodies such as RCC.
Take a look, it's quite good !
---
Small hall improvements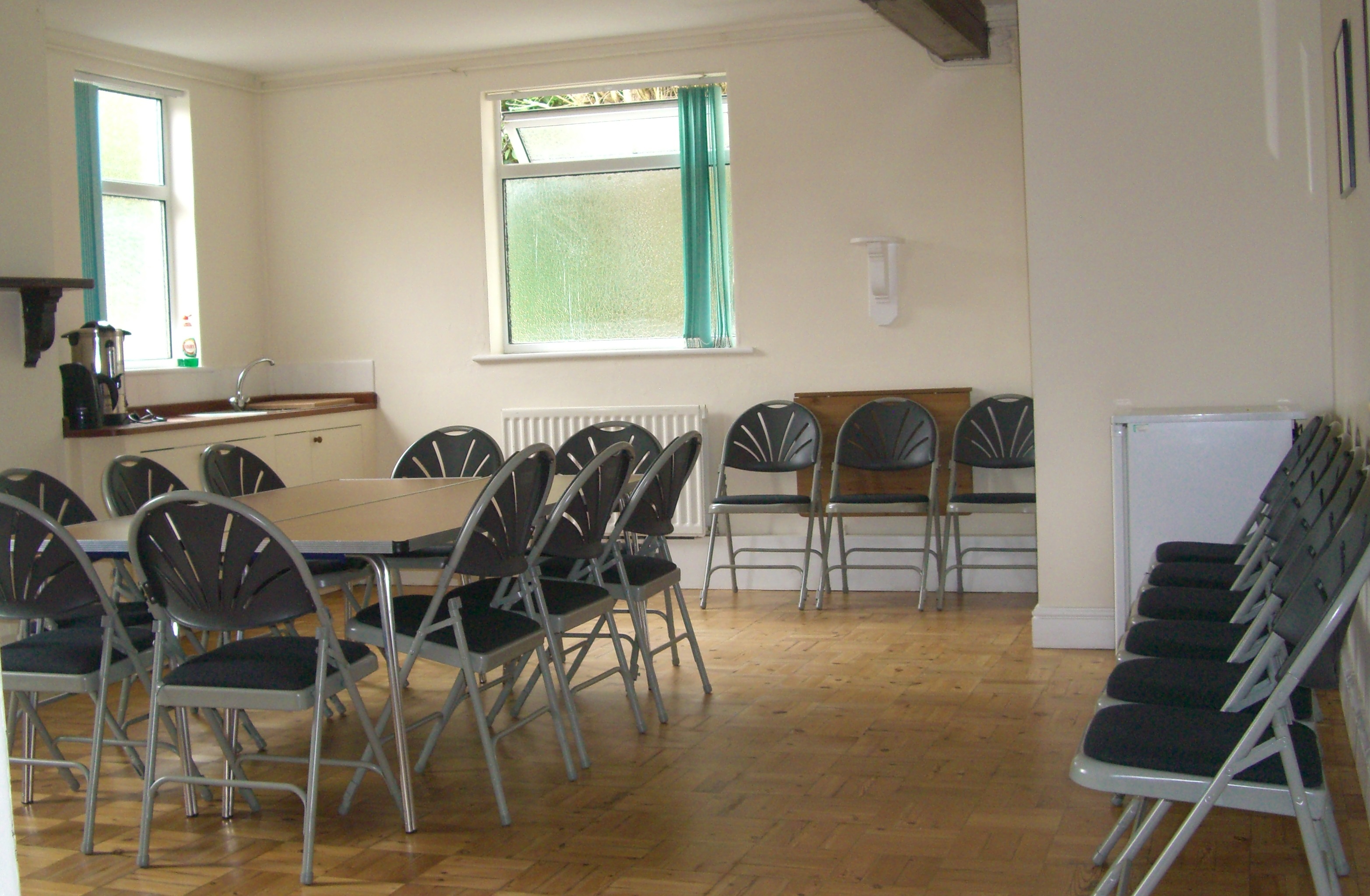 We've had the parquet floor in the small hall refinished - blocks have been replaced where necessary, stuck down, sanded and revarnished and it looks very good, makes the room feel much lighter than it was. The work was carried out by Chris Young Floors, and a they did a good tidy job.
---
Fast broadband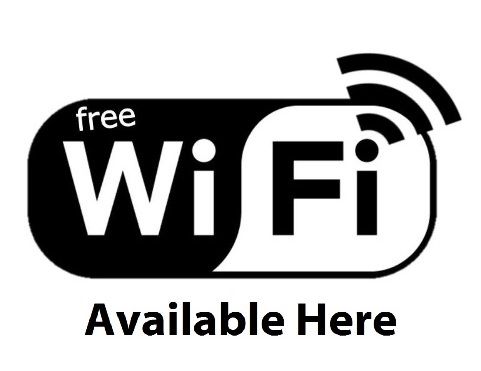 We've finally dragged ourselves into the 21st century and been connected to fast broadband.

With BT dragging their heels in connecting Braunston to fast fibre, we opted to install a wireless system from HERBS ( Harborough East Rural Broadband Syndicate ) which is a local group who aim to bring high-speed internet connections to outlying rural areas that are not served by BT fast infrastructure. We now have download and upload speeds of about 20mbps throughout the hall, and access to our network is free to hall users.