A brief history of the hall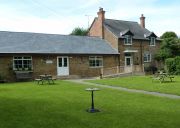 Braunston and Brooke Village Hall was built in the 1920's on land bequeathed to the village by Mrs G Hanbury and Mrs G Finch in 1923. The stone walls of the large hall were erected from stone recovered from the two cottages that originally stood on the site.
Further building works have been completed over the years to make the hall what it is today. The first renovations took place a decade later to build the small hall and the flat above the property. From the 1970's onwards each decade has seen additional improvements which included storage facilities, new toilets, a new damp proof course , double glazed windows and a new oil fired central heating system.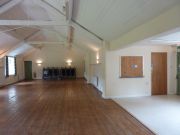 Since 2000 we have seen the most significant changes thanks to the help and support of local residents, local businesses and charitable grants. During this period we have had a new roof, a large new kitchen, electrical and safety work completed and new toilet facilities which include a large disabled toilet. This has been topped off by a smart new entrance to the hall allowing for disabled access to the hall. And our latest improvement is the installation of fast wireless broadband, which is available to all our hirers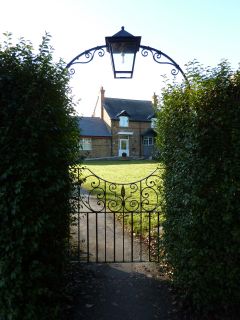 The wrought iron gates which provide a beautiful entrance to the hall and gardens were erected in memory of the late Ivor Freeman who both served as Chairman and Treasurer of the Village Hall Committee and the late Frank Ward who organised and ran our annual Flower Show for 35 years.
How the hall is run
The hall is managed by a group of Managing Trustees who are the Village Hall Committee and they are responsible for the day to day management of the Village Hall Charity ( Reg No 701595 ). The committee remains dedicated to raising funds to continue to keep our Village Hall in a first class state of repair so that it remains a wonderful community asset for the residents of Braunston and Brooke and generations to come, just as Mrs Hanbury and Mrs Finch wanted.
The current committee members are:
Rob Anderson
Suzanne Harry
Mike Fagan
Karen Allen
Jim Atack
Carole Brown
John Harry
Peter MacDonald-Pearce
Jane Ritchie-Smith
Janet Taylor
Steve Wickham
Sue Willetts
Sally Dux
Pip Nall
Cheryl Rogerson
Trustee ( Chair )
Trustee ( Secretary )
Trustee ( Treasurer )
Trustee
Trustee
Trustee
Trustee
Trustee
Trustee
Trustee
Trustee
Trustee
Co-opted member
Co-opted member
Co-opted member
Our committee members are all volunteers from the local community and we are always interested in recruiting new people into the group. If you would like to get involved and help shape the way your hall is run, or contact any of the current committee members, then please get in touch.
If you want to help us with our fundraising, why not use Easy Fundraising next time you shop online and select Braunston and Brooke Village Hall as your beneficiary - it will cost you nothing and help us raise more funds for the hall.