Come along on Friday Mar 2nd for another of our popular village hall quiz nights. Make up your own team (maximum of 6 people), or we can team you up with others. Tracy & Nick are hosting it once again, the bar will open at 6.45pm, quiz starts at 7.30pm and there'll be a hot supper halfway through the evening - what better way to start your weekend?
Tickets are available from Janet on 759556, Rob & Pat on 774388, and Cheryl on 07956 308808, or email info@braunstonvillagehall.co.uk.
Remember, the last quiz sold out and we were turning the hordes away from the door, so make sure you get your tickets early !!
---
Make Mothering Sunday a really special occasion by coming to the village hall from 9am onwards for a continental breakfast followed by an informal service.
More information from Gail on 01572 755570
---
Monday 19th March 7.30pm
The annual village hall AGM will take place in the small hall on Monday 13th March at 8pm. We welcome all villagers and would very much like to hear your ideas and feedback regarding the village hall and its uses.
Our aim is to ensure that sufficient funds are generated through private hires, plays and fund raising events such as the May Fayre and quiz nights to not only to cover the running and maintenance costs, but also to enable us to make the hall available at subsidised rates for community activities and villagers.
The hall has been busier than ever this year with a wide range of clubs and activities during the week and it has been wonderful to see that it is so widely used.
If you would like to get involved with the running of the hall please come to the meeting or let us know at info@braunstonvillagehall.co.uk.
---
We continue to present shows in the village hall under the Centre Stage touring arts banner. The Centre Stage scheme, supported by the Arts Council, provides funding to bring professional companies to small local venues so that villages like Braunston can host top class performances at village rates. These shows are a great opportunity to experience high quality entertainment on your doorstep, from productions that have often won acclaim at events such as the Edinburgh Festival.
---
Wednesday 25th April 2018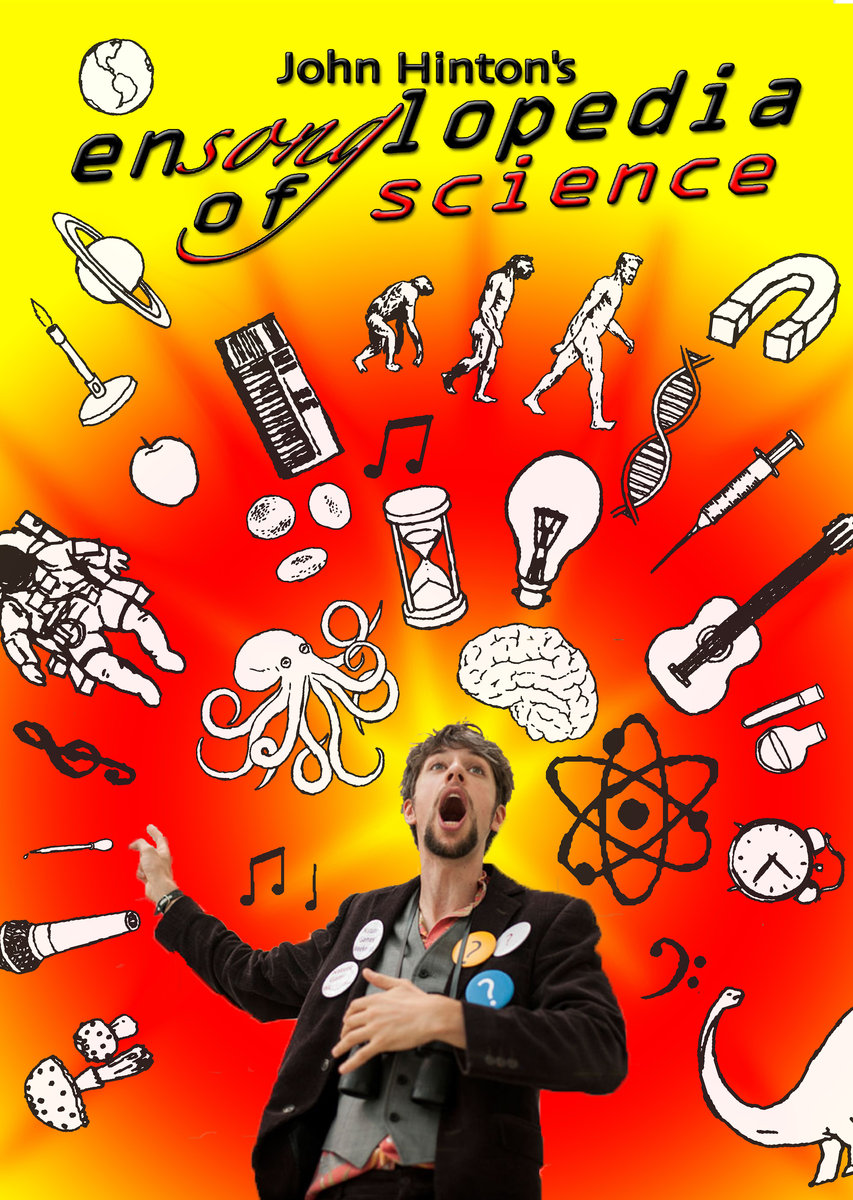 An alphabetical and musical journey through science.
We discover how octopuses smell, how to make one twin age faster than the other, how everything began and eventually how everything will end. Going from Atoms, Big Bangs and Cells through to X-rays, Y-chromosomes and plenty of Zoology, expect the unexpected - and expect it to rhyme.
This is the brand new show by John Hinton, multi-award-winning writer and performer of the Scientrilogy of musical comedies about Darwin, Einstein and Curie. Now he's back, just playing himself this time, but still singing silly songs about science in all sorts of genres from acapella to zither, and getting rave reviews from wherever it's performed ‑ at the Brighton Fringe this year it won an 'outstanding' accolade.
Recommended for ages 7+, it's a show that will be enjoyed by everyone, children and adults alike. Having seen John in action in his Darwin show in Oakham last year, I'm going to be first in the queue for tickets.
---