Upcoming events at the Village Hall
---
Sun 23rd Sept 7pm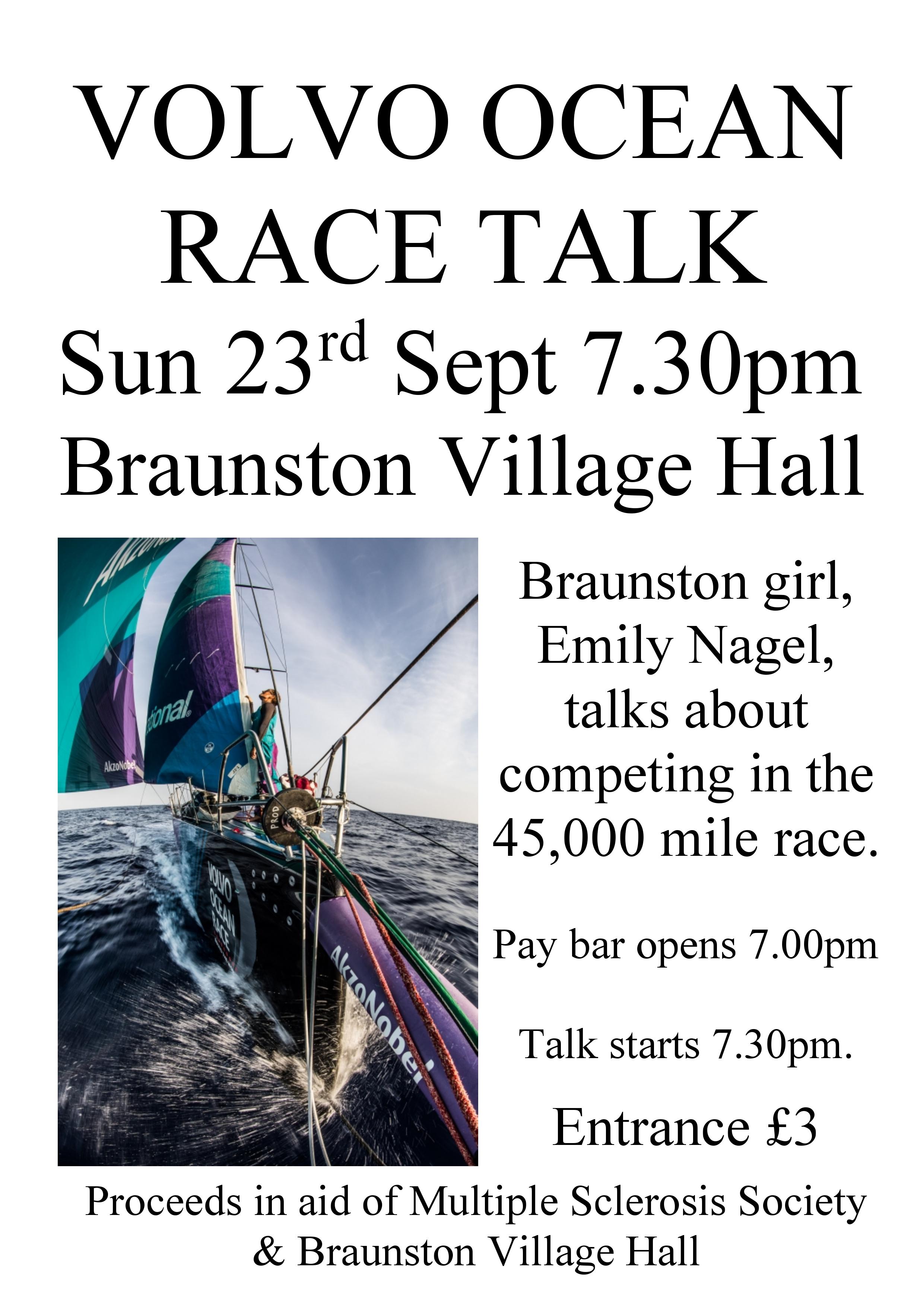 Braunston may be a long way from the sea but that hasn't stopped Emily Nagel, whose family live on Knossington Road, from pursuing her dreams of ocean adventures. This year she was part of a sailing team that took part in the Volvo round-the-world ocean race as part of team AkzoNobel, and on Sun 23rd Sept she will be back in Rutland to give a talk on her adventures.
Emily already has an impressive track record in ocean racing. She has raced for Britain at European and World Championships levels, in 2015 she led an otherwise all-male British University Sailing Association team to victory on a tour of the USA, and later joined Team BDA, the Bermudan entry in the Youth America's Cup. In 2016, she was part of a crew that raced an F4 foiling catamaran from New York to Bermuda and later she worked in the design department at Softbank Team Japan which is where she met AkzoNobel skipper Simeon Tienpont.
Doors open at 7pm - there will be a licensed bar - and the talk will start at 7.30pm. Entry is £3 and all proceeds will be split between Emily's nominated charity, the Multiple Sclerosis Society, and the village hall.
Kindly sponsored by Sturgess Volvo, Leicester.
---
Come along on Friday Oct 19th for another of our popular village hall quiz nights. Make up your own team (maximum of 6 people), or we can team you up with others. Tracy & Nick are hosting it once again, the bar will open at 6.45pm, quiz starts at 7.30pm and there'll be a hot supper halfway through the evening - what better way to start your weekend?
Tickets are £9 including supper, and are now available from Karen on 01572 723913 or 07961 050077, Rob & Pat on 774388, or email info@braunstonvillagehall.co.uk.
Remember, the last quiz sold out and we were turning the hordes away from the door, so make sure you get your tickets early !!
---
We continue to present shows in the village hall under the Centre Stage touring arts banner. The Centre Stage scheme, supported by the Arts Council, provides funding to bring professional companies to small local venues so that villages like Braunston can host top class performances at village rates. These shows are a great opportunity to experience high quality entertainment on your doorstep, from productions that have often won acclaim at events such as the Edinburgh Festival.
It may seem a bit early, but here's a date for next year's diary. On Sun Jan 27th 2019, James Rowland is returning to the Village Hall with his latest one-man show 'A hundred different words for love'. Some will remember that James was here last year with his excellent 'Team Viking', which I think was generally reckoned to be one of the best Braunston theatre nights that we have had.
His latest offering is already getting rave reviews ( 'a triumph', 'stunning', and 'profoundly moving' to quote just three ) so put it in your calendar and watch out for more details.
---
Other events being planned
Meantime the events committee is hard at work planning plenty of other dates in the hall - currently in production are a pre-Xmas musical extravaganza that may involve dancing !! , and another summer ceilidh for next June.
Keep checking back for details.