Upcoming events at the Village Hall
---
Sunday 27th Jan
We continue to present shows in the village hall under the Centre Stage touring arts banner. The Centre Stage scheme, supported by the Arts Council, provides funding to bring professional companies to small local venues so that villages like Braunston can host top class performances at village rates. These shows are a great opportunity to experience high quality entertainment on your doorstep, from productions that have often won acclaim at events such as the Edinburgh Festival.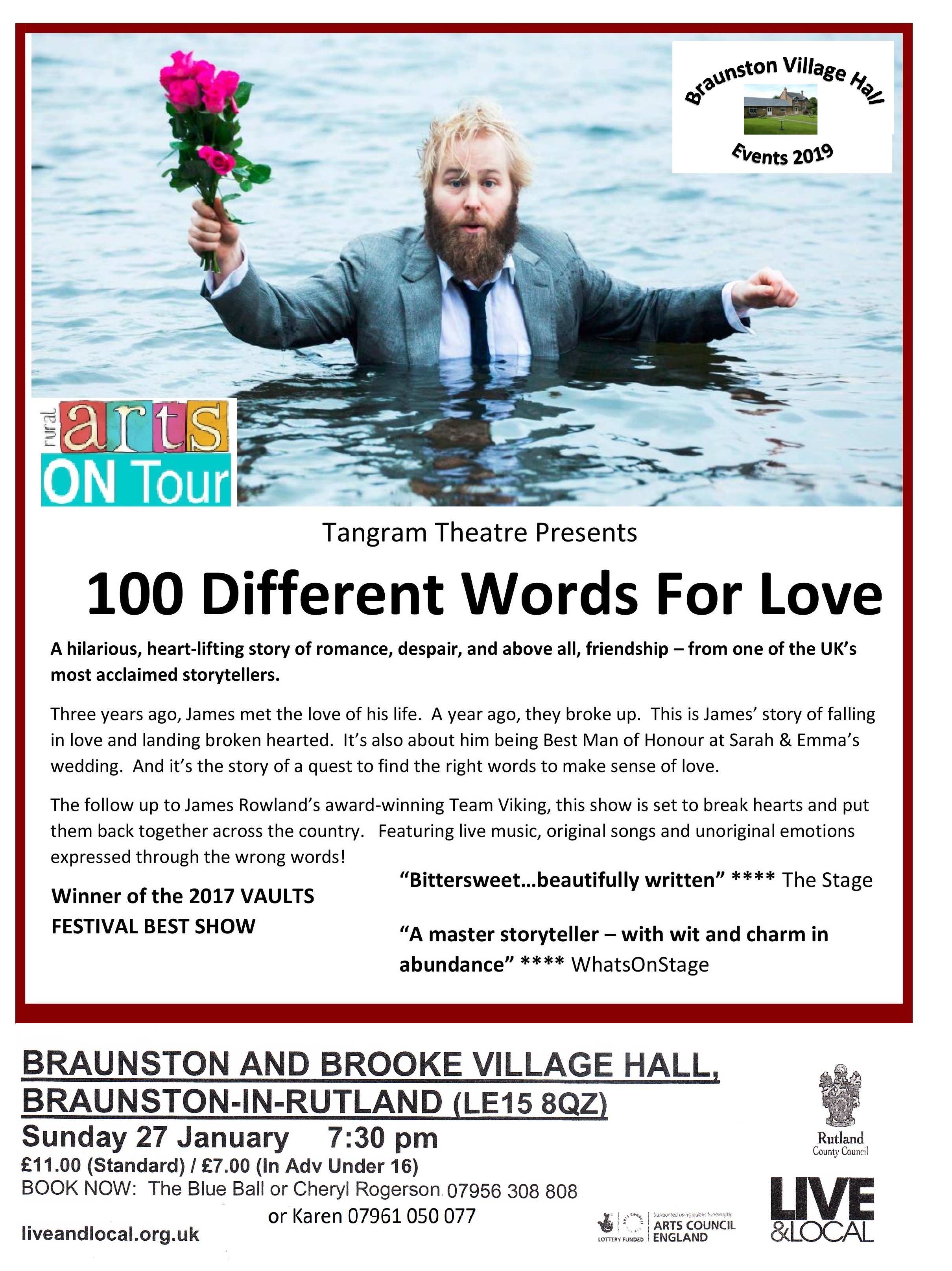 On Sunday Jan 27th, James Rowland is returning to the Village Hall with his latest one-man show 'A hundred different words for love'. Some will remember that James was here in 2017 with his excellent 'Team Viking', which I think was generally reckoned to be one of the best Braunston theatre nights that we have had.
His latest offering is already getting rave reviews ( 'a triumph', 'stunning', and 'profoundly moving' to quote just three ). Looking back on a devastating breakup, master storyteller James Rowland shares his quest to survive in a way that every member of the audience can understand. Both hilarious and heart-lifting, this very personal story of romance, despair and friendship is told with great charm and wit, live music, original songs (and unoriginal emotions) and, above all, heartfelt honesty. An utterly engaging gem of a show.
Tickets are £11 ( £7 under 16 ) and are available from Karen 07961 050077, Cheryl 07956 308308 or from the Blue Ball - get yours soon.
---
Other events being planned
Meantime the events committee is hard at work planning plenty of other dates in the hall - apart from everything listed above, we're already looking ahead to next June when there will be another midsummer ceilidh, and following the success of December's Festive Frolics, a date has already been pencilled in for 2019.
Keep checking back for details.